Surging passenger and freight traffic are putting pressure on the Swiss Federal Railways network, but funding for infrastructure enhancement is constrained. SBB Chief Executive Andreas Meyer tells Chris Jackson how he plans to tackle these issues and address continuing losses in the freight sector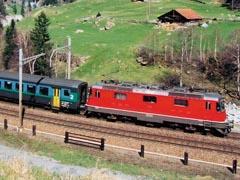 'KEEPING UP with demand is our biggest challenge', says Andreas Meyer firmly. Asked to identify his three biggest concerns, he confirms that growth in passenger and freight traffic heads the list, followed by investment to enhance capacity and ongoing losses at SBB Cargo.
Meyer took over as CEO of Swiss Federal Railways on January 1 2007, having previously served as Chairman & CEO of DB Stadtverkehr GmbH in Germany. His first year has been something of a baptism of fire, although, fortunately, he says, 'the SBB Group is on a sound financial footing'.
Capacity is his number one concern. 'Passenger growth is rising incredibly', he says, noting that 'SBB is operating at maximum capacity, and we really need infrastructure investment if we are to keep up with demand'. Last year SBB and the government agreed a 25-year programme of enhancement measures, known as Zukünftige Entwicklung der Bahnprojekte (RG 5.06 p256), which is now out to consultation with the cantons. Meyer believes that rapid implementation of the main ZEB projects will be 'crucial' if the railway is to cope with projected traffic growth.
'We are even considering a 15 min interval service to keep up with demand on the busiest routes'
Andreas Meyer
President & CEO, Swiss Federal Railways
A recent survey of European rail usage confirmed that Switzerland remains the clear leader, with each citizen travelling an average of 1 901 km per year — almost 50% more than France, which lies in second place at 1 287 km per person per year. Meyer attributes the surge in business to completion of the Bahn 2000 programme, which radically restructured the entire Swiss network around an interlocking regular-interval timetable launched in December 2004.
'Bahn 2000 improved our quality of service so dramatically that more and more people want to use the rail network. When we launched the regular-interval timetable in the early 1980s most inter-city routes were hourly. Now a lot of them are half-hourly, and we are even considering a 15 min interval service to keep up with demand on the busiest routes.'
Meyer admits that the growth assumptions behind the Bahn 2000 investment strategy were seen as 'very optimistic' at when it was approved in the mid-1990s. However 'the actual demand is even bigger, which has been a real surprise for us'.
He is slightly concerned that ZEB could trigger a similar effect, even though the scale of this programme is much more limited. 'When we were planning ZEB, we thought that patronage would increase by 40% between 2003 and 2030. But growth has been running ahead of our forecasts from the outset, and it was 5·8% in 2006 alone' (Table I).
Timetable changes
Coping with increasing demand – and encouraging further growth – requires regular adjustment of the service pattern, and this month's pan-European timetable change will bring further changes to the regular-interval structure.
'The start of passenger services through the Lötschberg base tunnel will cut journey times on the Lötschberg-Simplon corridor between Switzerland and Italy by almost an hour', says Meyer, adding that 'the tourist centres of Wallis will be linked much closer to the rest of German-speaking Switzerland.'
To exploit these time savings, the Cisalpino joint venture between SBB and Trenitalia has ordered 14 new ETR 610 high-speed trainsets. 'Unfortunately, because of serious manufacturing delays the trains won't be delivered for some time yet. So we won't be able to operate all services on the Lötschberg and Simplon routes with tilting trains for the time being.'
As a stopgap, 'the existing ETR 470 sets will be redeployed on services through the Lötschberg base tunnel, and conventional loco-hauled stock will be used to cover the services between Genève and Milano.' He hopes that 'the new trains will be gradually put into service from 2008 onwards'.
The timetable change will see a number of other improvements. The non-stop inter-city service between Basel and Zürich will be increased to half-hourly intervals at peak periods. And Interlaken Ost will be upgraded to 'full node' status for interchange purposes. This will cut the journey times to and from the Jungfrau region by almost 20 min. Finally, Meyer adds, the number of daily TGVs between Zürich and Paris will increase from two to three.
Financial performance
In September SBB published its results for the first half of 2007, which Meyer describes as 'encouraging'.
'We have achieved good results, though they were below expectations in some areas. For 2007 as a whole, we are expecting a positive out-turn in line with the previous year's result. Strong growth in the passenger business helped to lift the divisional profit to SFr90·9m, a 139% increase compared to the same period in 2006', he reports.
Adding that 'SBB's aim is to generate sufficient funds internally to equip ourselves for the opening-up of the European market', Meyer notes that 'the results for the real estate business are good too'. However, the SFr18m half-year profit from the property business is down on 2006, because much of the revenue is being ploughed back into infrastructure enhancements.
Another drain on SBB's resources at present is the need to rectify past under-funding of the pension fund. 'We have to meet our financial commitments towards retired employees', insists Meyer, adding that this 'is an obligation from the Swiss Confederation.'
Although SBB is required to operate commercially, some business areas – such as regional services – are not supposed to generate profits. 'Regional traffic is strictly governed by Swiss law', explains Meyer. 'Each service has an agreed budget, and the operators must submit their annual results for scrutiny. At the end of each year any profits must be paid back to the local authority specifying the service. This is the toughest control I have ever encountered.' The cantons both specify and pay for the regional services, and the bidding process ensures that operators are motivated to maximise their efficiency.
Meyer says the passenger growth is being seen 'right across the market', in both regional and long-distance services'. As subsidised regional trains and profitable long-distance services compete for capacity, it is a constant challenge to provide the densely co-ordinated level of interlocking services for which Switzerland is rightly famed.
Investing in capacity
With current projections envisaging a 40% growth in passenger-km and an increase of no less than 80% of freight tonne-km by 2030, network capacity is becoming increasingly critical. 'Utilisation of infrastructure is already very high in Switzerland, perhaps more so than in any other country', says Meyer. 'We're reaching our limits, and this is impacting on quality, in terms of timekeeping and the availability of seats. We can only cope with the forecast growth levels if we expand our rail infrastructure.'
The government has set tight financial limits on the ZEB programme, allocating a maximum of SFr5·2bn for infrastructure investment between now and 2030. Meyer says SBB has had to focus on the projects that will yield the greatest benefits. 'Of course, there are other projects we would like to include, but that would require extra resources. Finances from the main package cannot be diverted without significantly eroding the benefits for the network as a whole.'
ZEB is being financed from the FinöV public transport fund, which is itself capped at SFr30·5bn. Fed by charges on heavy lorries, fuel taxes, and VAT, the fund is also financing the NEAT transalpine routes, greater integration of Switzerland's railways into the European high-speed network, and noise prevention measures.
Meyer is concerned that well-publicised delays to completion of the Gotthard base tunnel will impact on ZEB, because both are financed from the same fund. 'The more expensive the tunnel, the less money will be available for ZEB', he explains. Equally, the delays will impact on SBB's customers. 'We expect the opening of the base tunnel to bring a quantum leap in the quality of service that we can offer, helping to make rail more competitive with other modes. Every day earlier that the tunnel is completed is another day we can deliver an improved service.'
ERTMS

roll-out

The replacement of legacy signalling and train control systems with ETCS is also expected to enhance capacity, and Meyer says the country's investment in ERTMS has already topped €400m. The government has agreed a clear migration strategy, and by 2015 he expects Switzerland to 'be one of the first countries with a 100% ETCS-equipped standard gauge network'.

SBB already has almost 600 locomotives and driving vehicles equipped, and has gained considerable experience with Level 2 operation on the new line between Mattstetten and Rothrist (p707). Level 2 has also been fitted in the Lötschberg base tunnel, but the rest of the network will get Level 1 with Limited Supervision. Meyer emphasises that 'a vital precondition for implementing our ERTMS strategy will be the rapid availability of the LS functionality' (RG 10.07 p608).

Meanwhile, a ground-breaking ceremony in September marked the start of construction on a second double-track cross-city tunnel in Zürich, which Meyer says will 'speed up journey times for our customers on S-Bahn and long-distance services' from 2013 onwards (p711).
Rolling stock expansion
As well as infrastructure, SBB will need to expand its fleet to accommodate the anticipated levels of demand. During Bahn 2000, completed in 2004, the railway invested SFr2·3bn in new or overhauled trains, including the ICN tilting trainsets, the IC 2000 double-deck push-pull stock and driving trailers for the EW IV single-deck inter-city fleet.
Over the next decade, Meyer says SBB 'will spend upwards of SFr4bn on rolling stock.' Top priority are the regional services, where further builds of Flirt and GTW multiple-units are envisaged. In addition, the NPZ multiple-unit fleet is being modernised: 107 RBDe 560/561 motor cars and 108 Bt driving trailers are being refurbished and equipped with air-conditioning and public address. The converted loco-hauled stock adapted as intermediate trailers will be replaced by 140 new NFP low-floor vehicles.
For long-distance services, Meyer says 'we will start investing up to SFr1·4bn in a further build of ETR 610s from 2008 onwards, in addition to the 14 sets already on order. And from about 2014 we will spend about SFr1bn on the next generation of ICN tilting trains.'
He points out that the rolling stock programme 'is subject to high cost pressures, not only in procurement but also with regards to maintenance', noting that 'the purchase price only accounts for just over half the total life-cycle costs of a regional train. So we try to make the individual classes as large as possible – hence our purchase of 341 IC2000 coaches, for example, or 137 Flirt units. Flexibility of deployment is also vital – hence the requirement for compatibility between the Flirt and GTW sets.'
By far the biggest allocation for rolling stock expenditure is the Zürich S-Bahn, where over SFr2bn is to be invested by 2015, in conjunction with Zürich transport authority ZVV. Forecasts suggest that the number of passengers using the network will keep rising steeply over the next few years, with up to 80% growth envisaged by 2025.
At a cost of SFr345m, the 115 first-generation double-deck units are being upgraded with the introduction of new DPZ-Plus air-conditioned low-floor intermediate coaches. The displaced vehicles will be retained for use in relief trains, allowing SBB to withdraw the last of the old single-deck EMUs dating from the 1960s.
In addition to the 60 DTZ double-deck EMUs now being delivered by Siemens, another 60 four-car sets are to be ordered at a cost of SFr620m. And a further SFr900m has been allocated for a third generation of S-Bahn stock. Meyer expects the delivery of the new builds to start in 2010.
Freight in trouble
Financially, SBB's biggest concern is the ongoing loss in the freight sector, which Meyer says is 'not amusing'. He confirms that 'SBB Cargo lost almost as much money in the first half of 2007 than the whole of 2006', recording a loss of SFr35·5m. One immediate outcome was the resignation of SBB Cargo's Director Daniel Nordmann, who admitted that he had failed to achieve his targets. He has initially been succeeded by his deputy Nicolas Perrin (RG 9.07 p534).
According to Meyer, 'the result posted by SBB Cargo is unsatisfactory in all three segments – domestic freight, international transit traffic and rolling stock maintenance.' Although freight business recorded a 13% increase in net tonne-km, 'this was not reflected in the financial performance.
'This needs immediate attention', Meyer insists. 'We can see where the money is going but have not allocated the losses between the segments. So we have commissioned a task force to look at the freight sector in detail. By the end of this year, we will know where we really stand and how we can develop this business.
But Meyer does not expect any fundamental changes in the remit. 'SBB is required by the government to provide a wagonload service across the whole country.' This once benefited from government support, but 'in recent years, its subsidy has been reduced to zero'. The government still expects SBB Cargo to reach break-even in 2008, although Meyer admits that 'this will be very difficult — if it is achievable at all.'
On a network of around 3 000 route-km, SBB Cargo currently serves 323 freight terminals and 170 private sidings, which Meyer feels is 'probably the densest wagonload network in the world.' Although he believes 'there will be no change to the service pattern', he admits that 'it remains an open question whether this grid can be retained without subsidy or losses.
'This much is clear', he emphasises. 'SBB will continue offering wagonload services, although the business will have to cover its costs. We need to use our entrepreneurial ability to make it possible.'
'In certain areas we see ruinous competition between operators ... at the end of the day, it is the customer that suffers'
Andreas Meyer
CEO, Swiss Federal Railways
Meanwhile, January 1 will see changes in the maintenance of freight wagons. At present SBB Cargo has two main workshops at Bellinzona and Biel. From January, the Biel operation becomes a joint venture with Alstom, in which the supplier is taking a 51% stake. SBB's monopoly on maintaining privately-owned wagons in Switzerland is being abolished, and the intention is that making Biel a stand-alone company will allow it to compete for work more effectively. Bellinzona will continue to maintain SBB Cargo's loco fleet and its own wagons in-house.
International competition
Dominating the Swiss rail freight business is transalpine transit traffic. 'Swiss policy is to get traffic off the roads onto rail', confirms Meyer, adding that 'growing rail's market share is one of our principal tasks'. This policy dates back to a referendum in 1994, which imposed a constitutional duty on the government to switch transit freight from road to rail.
A continuation of the policy was endorsed by the government earlier this year, but Meyer feels that 'Switzerland is still far away from reaching this goal'. As well as 'an effective and customer-friendly range of rail services', he suggests that achieving meaningful modal shift will require 'the implementation of counter-measures on the roads'. But that is a 'political question' and he would not be drawn on what these might be.
The opening of the Lötschberg base tunnel will bring much needed additional capacity. 'From the December timetable change, the current 80 or so train paths [on Corridor A] will increase to about 90. Journey times for freight trains will decrease by up to 15 minutes. We expect the base tunnel to raise productivity by 5% – 8%', which he believes will help to make rail more competitive.
Although SBB Cargo is 'not nearly as big as the largest operator', Meyer notes proudly that it 'is one of the three main quality providers' for transalpine transit traffic on the north-south corridor between Germany and Italy. 'We can see that customers want a one-stop-shop service. That's what we offer. And customers also want a choice of different providers.'
Following the opening up of the rail freight market, SBB has lost market share in recent years. But Meyer points out that 'this happens to all incumbents when markets are opened up'. In particular, he notes that BLS Cargo has captured a significant share of transit traffic by teaming up with Deutsche Bahn.
Meyer is not convinced that competition always provides the best outcome. 'In certain areas we see ruinous competition between operators, which is not helping the rail sector in terms of intermodal competition. My fear is that the opening up of markets encourages companies that are not used to competition to become overly aggressive — they are afraid to work together. At the end of the day, it is the customer that suffers.'
Given a strong political imperative for SBB to continue growing its freight business, Meyer confirms that his main aim must be 'to earn money in this difficult market, which is notable for its wafer-thin margins. And at the moment we're not doing that.'
International co-operation
Whereas competition is a fact of life for freight, Meyer believes that SBB's future in the international passenger business will be driven by co-operation.
'We want to continue growing together with strong partners', he says, adding that 'Switzerland is dependent upon good international relations. We set up Cisalpino with Trenitalia as a joint subsidiary to operate services between Switzerland and Italy. And we have good experience with the Lyria joint venture with SNCF that runs TGV services between Switzerland and France. We have even bought a new TGV POS trainset for our share of through services on LGV Est-Européenne.'
For services to and from Germany, SBB and DB set up Rheinalp as a joint marketing organisation in January 2006. 'All these shared platforms can be expanded further', he believes.
Meyer says it is no coincidence that SBB is one of the seven founding partners of the Railteam alliance (RG 8.07 p461). 'This will allow SBB to plug into the European high speed network', he explains. 'It is an excellent model for a platform to co-ordinate standards. And we have already taken the first steps. Soon we will have one commercial platform to sell multiple operators' services through one portal'. He admits that development of the planned Railteam Broker 'is a technical challenge', but 'we have to do the job'.
'If we go into fierce competition it would not help our customers. It is much better if we co-operate to provide good services, because that way we can offer a real alternative to air or road. That is actually a good role model for freight as well.'
Table I. SBB passenger and freight traffic 2003-07
Year
Profit, SFrm
passengers, million
pass-km, million
freight, tonne-km
annual growth %
pass-km
tonne-km

2003

93·4
250·3
12 290
9 936
0·5
2·

2004

15·2
253·4
12 565
10 117
2·2
1·8

2005

79·0
275·9
13 830
11 482
10·1
13·4

2006

194·0
285·1
14 267
12 344
3·1
7·5

2007*

92·3
-
7 370
6 827
5·0
13·3
* Half-year results
CAPTION: The Cisalpino joint venture between SBB and Trenitalia operates a fleet of ETR 470 Pendolino sets for cross-border services. However the opening of the Lötschberg base tunnel and delays to the delivery of the new ETR 610 stock means that from December services between Genève and Milano will revert to locomotive haulage
CAPTION: Bern Hauptbahnhof is one of several key interchange nodes that offer connections from inter-city services onto local routes. The launch of the full Bahn 2000 interlocking timetable in December 2004 has made journeys simpler, and SBB is considering meeting ever-growing demand by running at 15 min intervals on some inter-city routes
CAPTION: Meyer is optimistic that SBB Cargo can turn a profit in the difficult freight market, although he is concerned by the increasingly fierce competition between operators in some segments