Arriva's experience of working with local governments helped the company win a nine-year concession to run the Pågatåg network in Sweden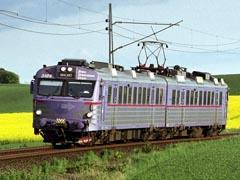 WINNING the Pågatåg concession in the Skåne region of southern Sweden marked a new era for Arriva, leading to the launch of our first rail services in the country during June this year.
The Swedish rail market is in a state of 'mid-liberalisation'. The regulatory environment is similar to that in neighbouring Denmark, where Arriva has operated two eight-year franchises in Jylland since 2003. However, competitive tendering has been established for longer in Sweden, and responsibility lies with the regional authorities.
Arriva is experienced in this type of market, which requires strong working relationships with the authorities, and co-operation is the key to future development. This has been demonstrated in the Netherlands, where Arriva has established successful partnerships with the Friesland, Groningen and Zuid-Holland provincial authorities, which has resulted in the efficient and effective acquisition and introduction of new trains (RG 7.05 p412).
High expectations
Arriva has operated buses in southern Sweden since 1997, and expectations were high when we took over the nine-year Pågatåg concession this June.
Incentives to help drive up quality levels by keeping the operator focused are built into the contract with Skånetrafiken, the regional public transport authority. Better services earn us bonuses, while any significant failures to deliver high standards will result in penalty payments.
Performance has been exemplary from day one, with 99·5% of trains on time, but to guard against complacency we have pledged to focus on punctuality, service and customer information.
Twice a year we are assessed on everything from punctuality to toilet cleanliness and the way we treat our passengers. It's not only about driving trains and checking tickets – it's all about service quality.
To ensure we meet high standards we expect all train crew, including our drivers, to help out during layovers to keep the trains clean and tidy. Every employee has a PDA, enabling him or her to provide passengers with real-time information on train running, service changes and any potential delays.
Feedback from our passengers has been good, with positive comments about increased service onboard and the approachability of staff.
Skånetrafiken has already expressed its satisfaction. 'Arriva is operating the traffic very effectively and smoothly,' according to Roland Olsson, Customer Ombudsman at Skånetrafiken. ''We hope, and believe, that Arriva is going to keep this level of punctuality and service in the future.'
Arriva's image also helps with recruitment. The successful start of the contract combined with competitive wages and an approachable management style has resulted in a lot of interest in joining the business. People are seeing a punctual rail operator with quality scores of close to 100%, and they want to be part of it. We work very hard to develop schedules which ensure a good work-life balance for our staff, and those who transferred from SJ and Danish State Railways are satisfied. We almost have people queueing for an opportunity to join us, which is a welcome position to be in!
Growth
Pågatågen provides regional trains on the Swedish side of the Øresund crossing, which has seen a 30% growth in traffic during the past year, placing increasing demands on the network. There is an on-going political debate about expansion, with the goal of longer trains to reduce overcrowding, more double tracking and new stations. ERTMS could also help tighten up the timetables, and ensure higher reliability.
On certain bus routes in Scandinavia, and on the metros in Stockholm and København, there is no need for a timetable as you simply go to the stop and catch the next available service. You don't miss a bus, you are just in time for the next one. More trains and better infrastructure could bring that to Skåne within 10 years.
Our contract with Skånetrafiken includes a commitment to increase capacity to meet the 8% growth the network has seen in the past year. The long-term aim is to expand the current fleet of 26 two-car Class X11 trains to a fleet of 49 Class X61 trains which will be a four-car variant of the Class X60 low-floor Lirex units being supplied to Stockholm.
On order from Alstom, the 160 km/h X61s will significantly boost capacity when they are delivered in 2009, offering 240 seats compared with 178 on the 140 km/h X11s. They will provide a more comfortable travel experience and better access for disabled passengers, as well as opening up opportunities for new routes and reduced journey times.
The new trains will be owned by Skånetrafiken, but Arriva is acting as a technical advisor for their development. We are providing input on technical and design specifications to ensure we get the best possible driver and passenger facilities within the resources available.
Ambitions
The current nine-year contract runs to June 16 2016, with an option for a two-year extension. It will initially generate revenues of around SKr200m a year for Arriva, rising to SKr250m when the new trains are introduced.
We serve 47 stations and will run approximately 5·5 million train-km a year until 2008, increasing to an expected 8·8 million train-km in 2015. This will require an expansion of the workforce from 210 to 270.
Arriva is very clear about its ambitions to grow and increase its existing presence in the Swedish rail market. We are particularly interested in opportunities in the urban transport markets of Stockholm and Göteborg.
The next large rail tender in Sweden will be the Stockholm Metro, encompassing three lines and 100 stations. Storstockholms Lokaltrafik has communicated its intention to call tenders by the end of the year.
'Sweden is one of the most interesting markets in Europe with regard to expansion possibilities and will look to pursue them over the coming years', believes Thomas Eybye Øster, Business Development Director at Arriva Skandinavien. 'In Scandinavia we have established a strong track record of quality, delivery and innovation, which is something that we will lo ok to bring to Stockholm should the opportunity arise.'
CAPTION: Pågatågen uses Class X11 EMUs to provide local passenger services between Malmö, Höör, Helsingborg, Kristianstad, Ystad and SimrishamnPhoto: Kasper Dudzik
CAPTION: Arriva is providing regional transport authority Skånetrafiken with technical advice during the procurement of 49 X61 EMUs to be supplied by Alstom in 2009
About Arriva
ARRIVA has its origins in a second-hand motorcycle shop opened in Sunderland in northeast England in 1938.
Then known as Cowie, the company moved into car sales in 1960, and was listed as a public company in 1965. Its first bus company was purchased in 1980, and the Arriva brand was adopted in 1997, the year in which the first overseas business was acquired. The group now has more than 34000 staff and in 2006 reported a £126·7m profit on revenues of £1·73bn.
In December Poland will become the 10th country in which Arriva operates transport services.
Arriva rail operating concessions
Country
Start
Years
Operating company
Scope
Network, km
Denmark
January 2003
8
Arriva Tog
Jylland regional services
520
Germany
Purchased April 2004


Prignitzer Eisenbahn (includes ODEG)
Several contracts of 8 to 10 years duration
753


Purchased September 2004


Regentalbahn, Vogtlandbahn Bayern, Thüringen and Sachsen, also services to Czech Rep


1 098


December 2007
10
Arriva Landerbahn Express
München - Hof, München - Oberstdorf - Lindau
632


Purchased March 2007


OHE (86% stake)
OHE has a stake in Metronom plus three local concessions


Netherlands
First services 1999,
new contract 2005
15
Noordned (JV with NS)
Arriva Nederland (sole operator)
Friesland and Groningen provinces
255


December 2006
12
Arriva Nederland
Dordrecht - Geldermalsen
49
Poland
December 2007
3
Arriva PCC Rail (consortium)
Kujawsko-Pomorskie voivodship
383
Sweden
June 2007
9
Pågatågen
Regional services in Skåne
328
UK
December 2003
15
Arriva Trains Wales
Most services in Wales and the borders
1624


November 2007
9
CrossCountry
Inter-city franchise
2 400