Launched in 1998, the upgrading of Britain's busiest inter-city and freight route from London to Glasgow has proved a challenging task that Network Rail now expects to complete by 2009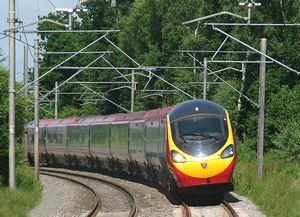 The original objective back in 1998 was that West Coast Route Modernisation would be completed in 2005, when a fleet of tilting trains running at 225 km/h would link London's Euston station with the major conurbations around Birmingham, Manchester, Liverpool and Glasgow using moving block signalling equivalent to ETCS Level 3. However, ambitions had already been scaled back when Railtrack collapsed in 2001, and Network Rail took over in October 2002.
The official target today for completing WCRM is the end of this year, although a serious failure to complete planned work at Rugby on time over the recent Christmas and New Year period has cast doubt on this objective (RG 2.08 p65). The final West Coast time-?table should see a further increase in the all-day frequency of Virgin's 200 km/h Pendolinos (and tilting DEMUs to Chester and North Wales) departing from Euston stepped up to three per hour to Birmingham and Manchester, and hourly to Chester, Liverpool and Preston, with many continuing to Glasgow. Business travel peaks will see 11 departures an hour from the capital. To meet that objective, four specific projects currently in progress must be completed in a corridor extending 80 to 120 km from Euston:
expansion of the track layout at Milton Keynes station;
major changes to the track layout and additional platforms at Rugby;
Phase 2 of track layout changes at Nuneaton;
expanding 19 km between Tamworth and Armitage from two to four tracks;
The first three projects include the transfer of control to a new signalling centre at Rugby. This was designed to control the whole of the WCML from Euston to just beyond the northern end of the quadrupling project at Armitage, although there is now some doubt about whether it will actually take over the London end controlled since 2001 by a new signalbox at Wembley.
Milton Keynes Central
This station opened in 1981 to serve a new town which is set to expand substantially. It currently has five platform faces: two each for the pair of 200 km/h Fast tracks, two for the Slow tracks, and a dead-end for turning back commuter trains from Euston.
A £200m remodelling now in progress will see the creation of a new Down Fast track and platform face, while the present Down Fast platform becomes reversible to perform two different functions. It can be used to turn back non-stop commuter trains using the Fast lines, but its main role will be to enable two following inter-city trains to stop sequentially at different platforms without queuing. This can be done in either direction.
On the other side of the layout, the dead-end platform track becomes the Up Slow through line while the present Down Slow effectively becomes a centre loop line used for routine reversal of Slow line commuter trains, thus avoiding unnecessary conflicting movements. A short bay platform is also being created next to the Down Slow for berthing local trains from Bedford, which at some future date will reverse at Bletchley where they now terminate.
Rugby to Nuneaton
Virtually the whole track layout through the Rugby area is being torn up and replaced to provide more platforms and raise the permanent speed limit for Pendolinos over some 4 km from 120 to 200 km/h. Only a small number of them will stop here in future. Together with Nuneaton, this project is costing £415m.
One problem with Rugby is that it forms the junction at which the last important converging stream of inter-city or freight trains heading for London joins the WCML, and hopefully takes up its allotted paths. The other is that the station has never had more than a single island platform, albeit with several bays at each end.
Even though there are effectively three through tracks in each direction, and flyovers at both ends, having only two through platforms makes the layout inflexible and introduces conflicting movements that could otherwise be avoided. This is now being rectified; a new Down platform is already in use, and an additional island platform on the Up side will open later this year, raising the number of through platforms to five.
While there are four tracks available all the way from London to Rugby, for 38 km south of Rugby the Slow lines diverge on a separate route through Northampton. An early stage of the Rugby remodelling therefore saw installation for the first time of crossovers interconnecting all tracks outside the two flyovers.
With all tracks reversible, this means that in future Rugby will be able to remain open to traffic using the three tracks on one side of the original island platform while work is undertaken on the other side. Hopefully, this will avoid the current situation where the WCML is completely blocked for a week or more whenever serious work needs to be done here, although at least one nine day closure of this nature is planned in November to commission the new signalling.
The WCML carries a lot of intermodal freight limited to 120 km/h, which cannot realistically share the Fast lines with Pendolinos for any significant distance.
However, most of the 24 km between Rubgy and the next major junction at Nuneaton has only three tracks, with the central track reversible. Restoration of the fourth track removed by British Rail over the first 6 km to Brinklow, plus a short extension of the Down Slow at the northern end, will this year reduce the three-track section to 13 km.
At Nuneaton, the first stage of remodelling completed in 2006 saw an extra island platform built on the eastern side, and a disused flyover restored to use so that cross-country trains between Leicester and Birmingham no longer have to cross all four WCML tracks on the level.
The second stage sees restoration of the connections both ways from the Leicester direction to the WCML; these were temporarily removed during the first stage. Tracks through the new platforms on the Leicester - Birmingham line are also being wired so that electric trains can use them if needed.
The layout at Nuneaton is being simplified, with points that previously required a speed restriction on the Fast tracks replaced so that Pendolinos no longer have to slow down. Control of all routes now managed from Nuneaton signalbox is being transferred to Rugby.
A further aspiration that is likely to be fulfilled within two or three years is a new chord connecting the Leicester - Birmingham line on the flyover to the WCML Down Slow. Funding has at last been secured to increase the loading gauge to W10 between the port of Felixstowe and Nuneaton, enabling container trains heading for the North West and Scotland to be re-routed away from seriously congested lines through the inner London suburbs.
Trent Valley quadrupling
Apart from a 4 km stretch between Colwich Junction - where most trains to Manchester diverge - and Stafford, the only stretch of the WCML south of the major junction at Crewe that remained double track was the 19 km between Tamworth and Armitage Junction. Work on the £350m project to quadruple this section is 86% complete, and it should be finished by December 2008.
When WCRM was launched, one of the guiding principles was that the upgrade would take place within the existing boundary fences. Tilt would avoid the need to ease the considerable number of tight curves, as had been done on the East Coast Main Line prior to electrification in the 1980s.
However, the subsequent growth of WCML freight - coupled with the failure to identify a viable alternative route for this traffic through the West Midlands - led to successive decisions initially to quadruple the 9 km between Armitage and Lichfield, and then to convert the whole section through to Tamworth.
Powers to acquire extra land mainly on the east side of the existing line were secured without undue difficulty, except for a shallow cutting through the village of Handsacre and a deeper cutting in Tamworth. In both cases, it proved possible to widen the original formation without moving the boundaries of the neighbouring gardens by using soil nails to steepen the cutting sides.
During normal operation between Nuneaton and Armitage 200 km/h trains will use the two centre tracks, while freight and local passenger trains will share the outer tracks which are the only ones with platforms at intermediate stations. However, the central Fast tracks will have bi-directional signalling so that at quiet times of day or night two tracks on one side of the layout can be taken out of use for engineering work.
This should cause minimal delay because all four tracks will be cleared for 200 km/h. The 39 km between Nuneaton and Armitage will be split into three sections by two sets of high speed crossovers, limiting the length of each worksite so that freight trains do not delay 200 km/h inter-city services unduly.
Extra space has been provided where possible between the two pairs of tracks, and the signalling has been arranged so that each pair can be controlled separately along different cable runs. This means that any failures should result in the loss of only two tracks rather than closing the line altogether.
In all, the quadrupling project required 49 km of new track and the installation of 80 km of new catenary. Along with the last remaining public road crossing, all footpath crossings have now been eliminated on the WCML south of Crewe.
Beyond WCRM
The formal position is that WCRM will end on March 31 2009 when Control Period 4 starts. However, thanks to the many problems encountered during the last 10 years, the task has obviously not been completed. For example, there are still mechanical interlocking frames in use at Stafford, and at Stockport where all Pendolinos to and from Manchester call, although the last semaphore signals were eliminated from the WCML in the 1970s.
The Department for Transport has therefore allocated a further £871m to be spent on three WCML projects in CP4. £272m of this is required to complete an ongoing power supply upgrade using 50/25 kV autotransformer feeding to cope with the demands of more and faster passenger and freight trains. This work was rescheduled after regenerative braking was successfully introduced in 2006, cutting energy consumption by 17% for the Pendolinos.
The next general upgrade will cover the Bletchley area, just to the south of Milton Keynes. The layout here will be simplified, with 25 km/h crossovers replaced by 100 km/h turnouts allowing 200 km/h running throughout. Provision is being made for Bedford trains to reverse so they can also serve Milton Keynes. However, much of the £116m to be spent here is required for resignalling, at the same time transferring to Rugby the remaining sections still controlled from Bletchley signalbox.
Bypassing Stafford
But well over half the extra funding is required to deal properly with the most serious remaining WCML capacity bottleneck in the Stafford area, a task that is now expected to extend at least to 2014 and possibly beyond.
The problem in this area is the absence of grade separation to avoid conflicting movements at four locations extending over 20 km from Colwich Junction to Norton Bridge. From south to north, most trains to Manchester leave the WCML at Colwich, while southbound freight crosses the path of trains on the Down Fast at Whitehouse Junction where four tracks merge into two through Shugborough Tunnel.
There is also a flow of passenger trains between Wolverhampton and Stoke-on-Trent which has to cross the paths of both WCML freight and passenger services either north or south of Stafford station, or further on at Norton Bridge Junction.
In its Strategic Business Plan published last November, NR says 'a range of options have been selected for further development' in this area following a detailed appraisal that 'involved DfT, Network Rail and train operators'.
The option which appears to be gaining support would see the construction of a new bypass line that would also include rerouting of Manchester trains so as to eliminate the present sharply curved route through the Colwich area. As the map shows, there are alternative routes requiring 14 or 21 km of new line. Either would allow the London - Glasgow journey time to be brought below 4 h as well as boosting capacity on the busiest mixed traffic passenger and freight railway in the UK.
CAPTION: A shortage of overhead line engineers contributed to a serious delay to engineering work at Rugby over the Christmas period last year.
CAPTION: Completion of work to remodel Rugby is now expected in early 2009. The new layout will permit Pendolinos and tilting DEMUs to run through the station at 200 km/h.
CAPTION: The Rugby remodelling should bring improved facilities for passengers.Work to add two running lines over a 19 km stretch of the Trent Valley line is well advanced.
CAPTION: Network Rail is assessing two different options to build a new route avoiding the pinch-point at Stafford. One would be an entirely new alignment across Beacon Hill, the other would make use of some of the existing alignment between Hixon and Sandon, currently used by most trains between Manchester and London.