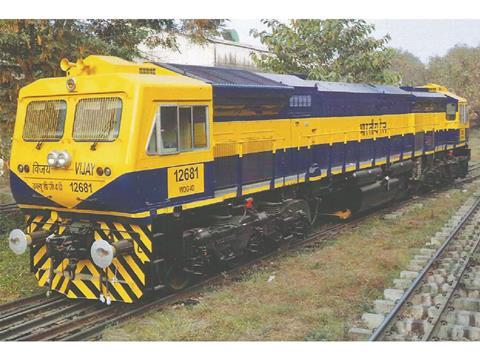 INDIA: Minister of Railways Shri Mallikarjun Kharge visited the Diesel Locomotive Works at Varanasi on November 6 to formally flag off the prototype WDG4D locomotive Vijay, which Indian Railways says is the first twin-cab diesel-electric freight locomotive it has built.
IR has traditionally used single cab designs, but as locomotives have become longer and wider to accommodate higher speeds and power ratings it has recognised a need to improve crew comfort and visibility. At the launch the WDG4D was described by Railway Board Chairman Arunendra Kumar as 'a wonderful breakthrough not only for DLW but for Indian Railways and the country'.
The WDG4D has been developed in conjunction with RDSO and is equivalent to the existing single cab WDG4 (EMD GT46MAC) design. A WDG4D costs Rs147m compared to Rs143·8m for the single cab version, and is 2 m longer at 21·7m. The air-conditioned cabs have TFT screens displaying operating and fault diagnostic information, and an ergonomically-designed control stand and seat with tilting back and lumbar support based on designs used on excavators.
The 4 500 hp locomotive is powered by a 710 G3B engine, IGBT controlled three-phase traction motors and computerised braking controls. Top speed is 105 km/h, with a maximum of 100 km/h envisaged in revenue service. The WDG4D could also be used to haul passenger trains in emergencies.
The WDG4D shares components with twin-cab passenger locomotives built by DLW, which is expected to simplify the start of series production after successful trials with the prototype.