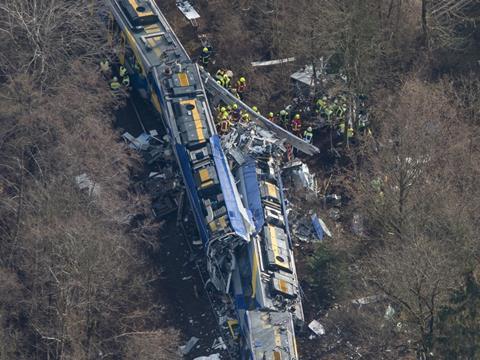 What are we to make of the horrendous head-on crash at Bad Aibling in southern Germany on February 9? In the second decade of the 21st century, how can two modern EMUs collide at high speed on a single-track route equipped with colour light signals and full PZB automatic train protection?
At around 06.45, a three-car Flirt forming Meridian train 79506 from Rosenheim to Holzkirchen collided with its six-car eastbound counterpart 79505 between Kolbermoor and Bad Aibling. The trains met on a curved section of line in a wooded area, and it seems unlikely that either driver saw the other train until the last moment. According to federal transport minister Alexander Dobrindt there was little evidence of any braking. With one train running close to the line speed of 100 km/h and the other at more than 50 km/h, both leading cars were virtually destroyed. Even the latest crashworthiness standards are of little value in the event of such a high-energy impact.
The worst rail accident in Bayern for more than 20 years killed 11 people and injured another 80, many seriously. Fortuitously, the Shrove Tuesday holiday meant that the usual contingent of school children had the day off, otherwise the toll might have been far worse. Meridian operator Bayrische Oberland Bahn, part of the Transdev group, confirmed that one train had a trainee and a driver instructor in the cab, while the other driver had been accompanied by a colleague from another operator; at least three of them were among the fatalities.
With the three juridical recorders recovered from the wreckage, investigators began probing the data for clues as to whether the root cause could be attributed to a technical failure or human error. Following intensive analysis, state prosecutor Wolfgang Giese announced in Bad Aibling on February 16 an initial finding of 'human error with disastrous consequences'. However, it is rare for railway accidents to result from a single error; almost always there will be a chain of contributing factors and missed opportunities.
The two trains had been timetabled to pass each other at Kolbermoor, but on the fateful morning it seems that 79505 was running late. It is not clear whether a formal decision was taken to switch the meet to Bad Aibling in order to minimise the delay to 79506, conveying early morning commuters towards München. Past experience from many countries suggests that out-of-course running can create a pressurised situation where mistakes may be made.
For two trains to meet on a single line, the train protection systems must have either failed or been over-ridden. All technical systems have to have an over-ride facility for use in the event of a failure, but there are very strict protocols overning how and when they may be used. Reports indicate that one of the trains was probably authorised to pass two red signals using a subsidiary 'Ersatz' aspect. In such cases trains are required to proceed at restricted speed, but given that the other was running at full speed this would be unlikely to reduce the severaity of the impact. A question now being asked in Germany is whether the substitute signals themselves should themselves have some form of protection, but that risks a vicious circle of increasing technical complexity and cost.
The accident at Bad Aibling occurred only a few days after the publication of the initial report into the high speed derailment at Eckwersheim. While this occurred under test conditions, the French investigation bureau BEA-TT drew attention to the isolation of the train protection system for the overspeed run and questioned whether the operating procedures governing the trials had cut the safety margins too far.
As the European Railway Agency's safety unit pointed out in its last report, the general level of rail safety across the European Union has been improving steadily in recent years, despite a handful of high-profile accidents in the past couple of years. Part of that improving trend can be attributed to technical improvements in all aspects of railway operation, from train control to vehicle design, as well as better training and awareness of the risks. But a key factor which distinguishes the 'best in class' is a strong focus on monitoring 'precursor incidents' – those mistakes or failures which might have led to an accident but fortunately did not. Watching out for such precursors, sharing the details, and learning from them can help to prevent the build-up of a chain of contributing factors which might one day result in a real disaster.
We understand that ERA's next report – expected to be published later this month – will once again emphasise the importance of tracking and learning from precursors. It will also address the increased probability of even experienced staff making errors under pressure during degraded operation, and encourage both train operators and infrastructure managers to be more aware of the potential risks.
There is also an important lesson for those who think that simply installing more advanced technology like PTC or ETCS will automatically eliminate all accidents. It won't. Technical advances will undoubtedly continue to improve rail's safety record. But they have to be considered and treated as part of an overall risk reduction strategy which embraces so much more. There is really no alternative to eternal vigilance.