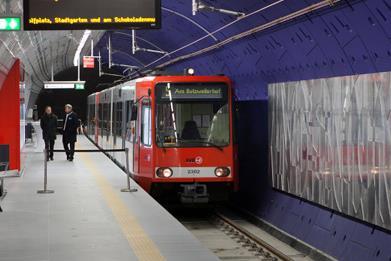 GERMANY: The city of Köln, transport operator KVB and construction consortium Nord-Süd-Stadtbahn Köln Los Süd have reached an out-of-court agreement to settle legal claims arising from the collapse of the city archive building during construction of the north-south Stadtbahn tunnel.
Two people in neighbouring buildings were killed in the collapse on March 3 2009, and many historic documents were damaged or destroyed.
The consortium of Bilfinger, Wayss & Freytag Ingenieurbau and Strabag subsidiary Züblin has agreed to pay €600m to settle the claims. It will also undertake certain structural works at its own expense to enable the final completion of the line between Heumarkt and Severinstraße, and will provide a space for a memorial.
The city said the compensation would secure funding for the construction of a new archive building and restoration of the damaged documents, 95% of which have been salvaged.
Strabag said the settlement would avoid another long legal dispute. 'In view of the extremely complex issue regarding the cause of the damage, which has kept all involved parties occupied for more than 11 years and would probably have kept them occupied for another 10 to 15 years, and after intensive consideration of all options, we consider the agreement reached to be reasonable — not only for all project participants but also for our shareholders', said Thomas Birtel, CEO of Strabag and Chairman of the supervisory board of Ed Züblin on June 29.
'The time has come to draw a line under the past and to focus on the challenges facing us in these difficult times', he said. 'March 3 2009 will remain a deeply tragic day that we will never forget.'