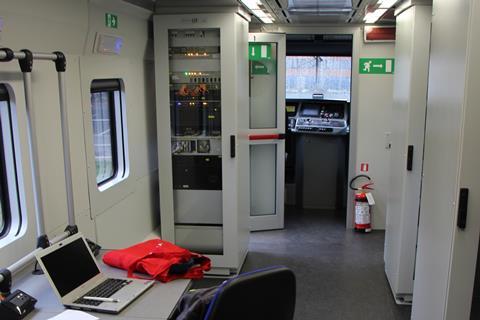 SPAIN: National infrastructure manager ADIF has selected Stadler and MerMec for a €74·5m contract to supply and commission three infrastructure monitoring trains and to undertake their maintenance for a period of five years.
Approved by the ADIF board in late December, the eight-year contract to be signed shortly covers two bimode trainsets for use on 1 668 mm gauge lines and one for the 1 435 mm gauge high speed network. It includes the supply and installation of safety and communications systems for the trains, as well as the instrumentation and onboard diagnostic systems and a stock of spare parts.
Stadler Rail Valencia will be responsible for assembling and commissioning the self-propelled trainsets, which will be able to run at a maximum speed of 160 km/h in diesel mode and up to 200 km/h using electric traction. They will be fitted with the Asfa Digital automatic train protection system as well as ETCS, GSM-R, and wi-fi, supported by uninterruptible power supplies.
MerMec will provide the geometry measurement and optical inspection systems to monitor both track and overhead line, as well as equipment to inspect Eurobalises and other signalling beacons, and the diagnostic systems. Odometry will record the train speed and exact positioning, while cab-mounted vision systems will record and assess the condition of trackside assets.
The three diagnostic trains are being ordered as part of a programme to upgrade ADIF's inspection regime, which was adopted in October 2018. The infrastructure manager has already ordered at a cost of €47·4m a gauge-convertible high speed inspection train from Talgo, which will be able to operate at up to 330 km/h on standard gauge lines and 300 km/h on the broad gauge network.
As well as supplying infrastructure monitoring systems to a wide range of international customers, MerMec is partnering with Stadler to develop ERTMS equipment through the Angelstar joint venture.