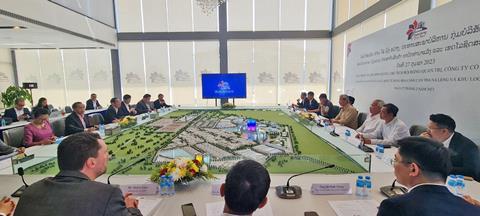 ASIA: Vietnamese construction company Deoca Group and Laos's Petroleum Trading Lao Group have signed an agreement to study the construction of a 555 km railway between Vietnam and Laos, and to build a section of the line within Vietnam, Deoca announced in March.
The east-to-west route would connect the Vietnamese port of Vũng Áng, which is not rail-served, to Vientiane, the capital of Laos, where it would have a connection with the 1 435 mm gauge main line to China. The route is expected to carry significant freight traffic between the port and terminals in northern Laos, China and Thailand.
The double-track standard gauge line would be designed for 150 km/h operation. The project cost is estimated at 149 550bn dong and the railway would be built as a public-private partnership, with the two companies reporting that they have the backing of their respective national governments..
The Vietnamese section, linking Vũng Áng with the Mụ Giạ pass, would be 103 km long with eight stations and would cost 27 485bn dong.