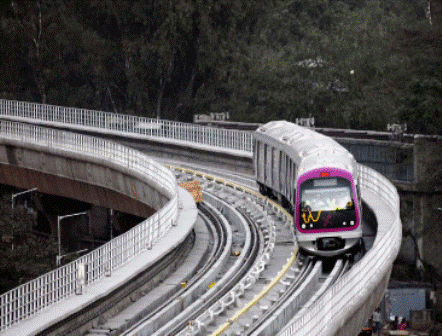 INDIA: Bangalore Metro Rail Corp has awarded Alstom a €71m contract to provide power supplies and electrification for the extension to the city's two metro lines being built as part of Phase 2 of BMRC's network development plan.
Alstom is to install 750 V DC third-rail electrification, along with 26 traction substations and 30 auxiliary substations. It will also supply a 33 kV cable distribution network and integration of SCADA systems with the existing lines.
Alstom expects that the first of five work phases, covering 6·5 km, will be completed by the end of the year.
The existing lines are being extended at both ends as part of Phase 2, under which two new lines are also being built. The east-west Purple Line is being extended east by 15·3 km from Baiyyappanahalli to Whitefield and by 8·8 km from Mysore Road to Kengeri. The north-south Green Line is being extended south from Yelachenahalli to Anjanapura by 6·3 km and north from Nagasandra to BIEC by 3 km.
Phase 2 is being developed by BMRC, a joint venture between the governments of India and the state of Karnataka.