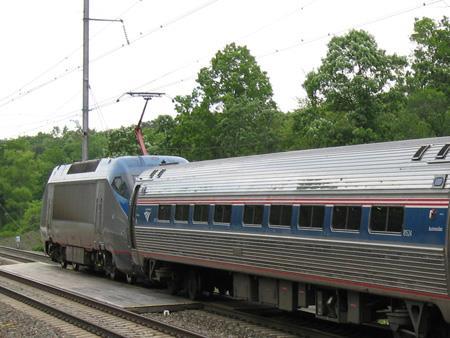 USA: Amtrak has awarded a contract to MerMec Inc for an advanced catenary inspection and video surveillance system to replace its existing equipment used to monitor the overhead line installations on its electrified Northeast Corridor. The new system will be installed on Amtrak's high speed inspection coach, which operates as part of an Acela trainset undertaking daily inspection runs.
Under the contract announced on October 1, delivery and commissioning of the equipment is due to be completed in the first half of 2013. 'This is the first of a kind of train-borne wire wear monitoring systems installation in North America', said Luca Ebreo, CEO of MerMec Inc. 'The specifications required by Amtrak were very challenging, not only in terms of accuracy but also for the reliability of the system.'
Although MerMec has supplied catenary monitoring systems to other railways, the technology had to be partially redesigned to meet the Amtrak specifications, particularly in terms of the field of view. The Northeast Corridor currently uses three electrification systems installed by different companies over a span of almost 100 years, all of which the system must be able to inspect.
Designed for operation at up to 220 km/h, the MerMec measurement system is based on advanced laser triangulation, detecting and measuring up to eight individual wires and discriminating between six wire types. There will be four cameras to measure wire wear and four to monitor the overhead line geometry. This configuration is designed to provide a very wide field of view, accommodating up to 1 220 mm of wire stagger and vertical height differences of up to 3 m.
The integrated monitoring system must be able to operate in severe weather conditions such as rain, snow and fog. The video surveillance system will continuously record longitudinal images of the overhead line equipment, together with location parameters, allowing for off-line post processing and analysis.