INDIA: The Asian Development Bank has approved a US$1bn loan to support construction of the Delhi – Ghaziabad – Meerut Regional Rapid Transit System.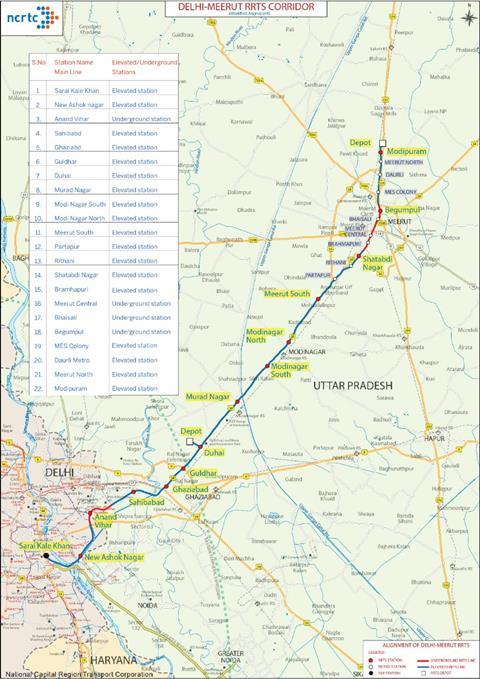 The financing is be implemented in four tranches between August 2020 and May 2025. The government of India will provide US$1·89bn, and co-financiers are expected to provide $1bn of the total US$3·94bn cost of the commuter rail scheme.
A $3m grant from ADB's Japan Fund for Poverty Reduction will support the provision of visual, hearing and mobility aids, including wheelchairs. Training for women and disabled people will cover safe mobility and employment opportunities, as well as behavioural change for public transport providers.
The Delhi – Meerut RRTS will run 82 km northeast from the capital, with 24 stations. A fleet of Bombardier Transportation electric multiple-units running at up to 160 km/h will provide a journey time from Meerut to Delhi of less than 60 min, while local services will connect 13 stations on the 21 km northern section through Meerut. Ridership is predicted at around 800 000 passengers/day.
'This project will also provide safe, reliable and seamless travel between Delhi and other National Capital Region cities and pave the way for a paradigm shift in mobility', said ADB Principal Transport Specialist Sharad Saxena on August 18.
The line is intended as the first of three priority rail corridors to be developed under the NCR Regional Plan 2021.