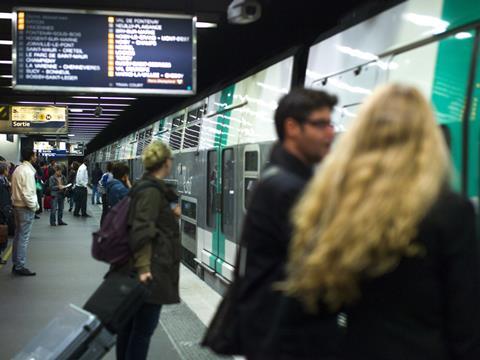 FRANCE: Alstom Transport has been selected to develop and install automatic train operation on Paris RER Line A under a €20m contract awarded by city transport operator RATP, the Ile-de-France region and transport authority STIF.
The introduction of attended ATO that meets Grade of Automation 2 is expected to improve performance and boost capacity on Line A, which is currently carrying around 1·2 million passengers/day. It will allow headways to be reduced and service frequencies increased, while reducing the journey time through the central core between Vincennes and La Défense by about 2 min.
Line A is already equipped with SACEM, which monitors train speed and headways and provides a form of quasi moving block with 'distance to go' cab signalling overlaid on the lineside fixed blocks. This enables drivers to close up behind the train in front at low speed in order to minimise the platform reoccupation time at stations. Retrofitting the trains with ATO would reduce the variability in performance associated with manual driving, and enable RATP to make best use of the available capacity.
The ATO equipment is to be installed on a total of 173 trainsets, including the double-deck MI2N units and the MI09 EMUs which are now replacing the line's oldest trains.
Alstom has been commissioned to undertake detailed studies and then develop the prototype equipment, as well as undertaking testing ahead of commissioning in 2018. The work is to be undertaken at the company's facilities in Saint-Ouen and Villeurbanne.
Ana Giros, Managing Director of Alstom Transport France, said the contract 'demonstrates RATP's renewed confidence in us and illustrates Alstom's ambition to reinforce its position in the signalling market'. As part of this wider strategy, the company is currently awaiting final regulatory approval to complete its acquisition of the GE Transportation signalling business.