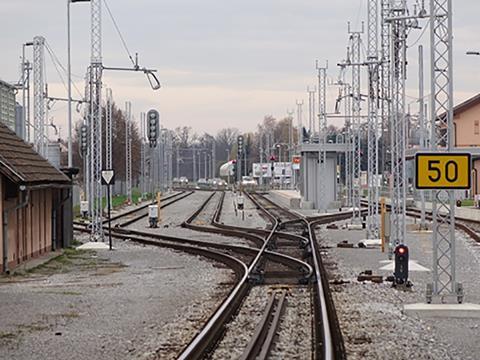 EUROPE: Slovenia's Ministry of Infrastructure and Austria's Ministry of Transport, Innovation & Technology signed an agreement on October 20 for a €192m modernisation and redoubling of the Graz – Maribor line in 2017-21. This is intended to increase capacity from 63 to 84 trains/day, and reduce the journey time from 70 to 45 min.
The Graz – Maribor route forms part of the historic Südbahn main line from Wien to Trieste, but the second track was removed in 1956 as a result of the drop in freight traffic after World War II.
Around 29 km of the 49·5 km Austrian section between Graz and the border station at Spielfeld-Straß is currently partly double-tracked, but the entire 15·6 km Slovenian section is single track. The line is electrified at 15kV 16·7 Hz to Spielfeld-Straß and at 3 kV DC to Maribor.