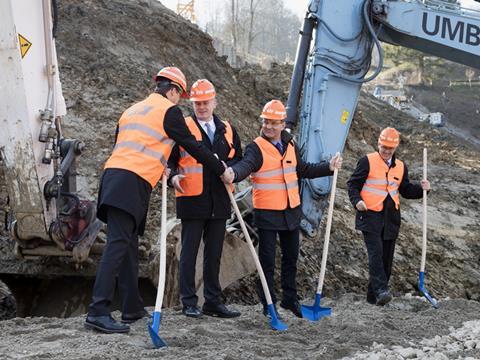 SWITZERLAND: A groundbreaking ceremony held at Schinznach-Dorf on March 9 launched construction of the 2·7 km new Bözberg Tunnel, the biggest single element of the project to increase clearances to 4 m to accommodate semitrailers on the Gotthard corridor between Bern and Italy.
The new double-track bore is being built parallel to the existing tunnel, which will then be modified to provide service and emergency access to the new tunnel from 2022.
Preparatory works started in October 2015 and main tunnelling is scheduled to begin in March 2017, with services through the new tunnel planned to start at the end of 2020.
Construction is expected to cost SFr350m. The work is being funded by a SFR700m credit for the gauge enhancement programme which was approved by parliament in 2012. The overall programme will require works on around 20 tunnels on the 270 km route between Basel and the Italian border, and around 80 adjustments to electrical and signalling systems, platforms and other structures.