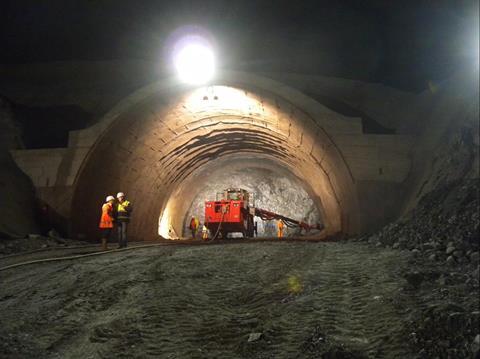 SPAIN: The national government has announced a €414m package of rail investment for 2022 in the three provinces that make up the Basque region.
The announcement on November 4 is the latest in a series of funding allocations for work along the EU's Atlantic Rail Freight Corridor, which links ports in Portugal with Madrid, northern Spain and destinations in France. The Spanish Ministry of Infrastructure has now invested a total of €3·8bn in this corridor, of which the most high-profile element is the so-called 'Basque Y' mixed-traffic high speed line. Under construction for several years already, this will provide a 1 435 mm gauge connection between Bilbao, Vitoria-Gasteiz and San Sebastián, as well as providing a standard gauge route from France to Madrid.
The latest tranche of funding is focused on improving rail access to the ports of Santurtzi near Bilbao and Pasaia near Irún; building logistics terminals at Júndiz and Lezo; and completing the Basque Y approach routes to the stations at Bilbao-Abando and Vitoria-Gasteiz. In both cities, lengthy tunnels will be required through urban areas. The work is to be co-financed by the Spanish and Basque governments, who are aspiring to complete construction by the end of 2025.
A further €78m has been made available for completion of the high speed route into San Sebastián; this project is being managed wholly by the Basque government.