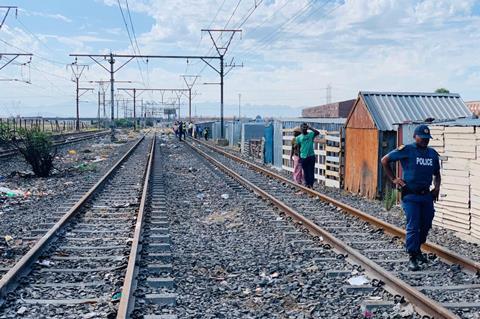 SOUTH AFRICA: Plans to restart Passenger Rail Agency of South Africa's suspended commuter services on the Central Line between Cape Town and Chris Hani were announced by Minister of Transport Fikile Mbalula on March 5.
The route has been without services since November, when operations were suspended as a result of problems including electrical equipment being stolen and 'vandalised beyond repair', illegal electrical connections and encroachment onto the alignment.
'Prasa is an important institution that plays a major role in South African public transport', said Mbalula. Prasa is 'too big to fail', but it 'has been broken over time', with 'people's money stolen that was meant for upgrades, maintenance, more trains and general operations of our trains.'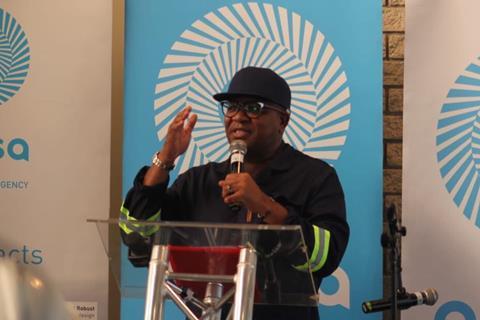 Mbalula announced the allocation of R1·4bn for a phased programme to restore Central Line services. The first three months would be used to bring 'stability and order', ahead of a six-month programme to carry out rehabilitation projects which are 'stuck in the pipeline'. The next 12 months would be spent on commissioning new projects and medium-term planning.
A fleet of 80 buses is to be used to provide rail-replacement services from July. From September, Prasa's Metrorail division would provide a limited train service on the 24·8 km between Cape Town and Philippi, running every 30 min. Services from Philippi to Kapteinsklip (8·7 km) and Chris Hani (14·5 km) would be restored in April 2021, with trains every 10 to 15 min at peak times.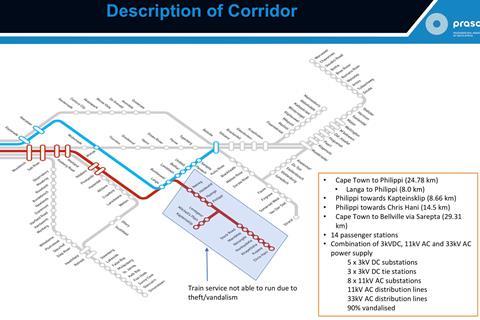 Work to improve the condition of the infrastructure and remove speed restrictions would include track renewals, replacement of substations and overhead electrical equipment and a 'complete modern resignalling project'.
Plans to improve the security of services include the construction of 4 m high concrete walls to demarcate and protect the railway corridor, as well as the deployment of drones, video surveillance, perimeter monitoring, access control, cybersecurity and asset tracking technology.
'We are committed to fixing train services across South Africa', said Mbalula. 'Progress is being made'.