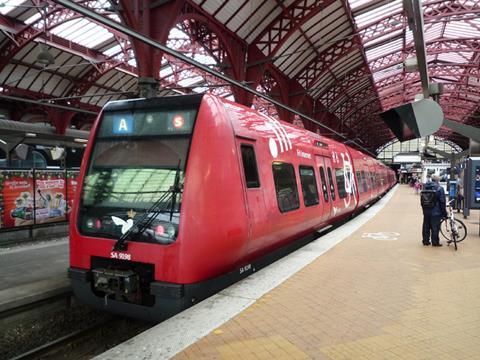 DENMARK: Infrastructure manager Banedanmark has commissioned the first section of CBTC signalling on the København S-Bane network. The northern section of Line A between Jægersborg and Hillerød was switched over with effect from February 29.
The legacy signalling on the 1·5 kV DC electrified network uses a mix of technologies installed between the 1930s and 1960s. Although busier than other routes, the Hillerød line was selected for the initial conversion as its Simplified HKT equipment was easier to replace than that used elsewhere.
Siemens was awarded a €252m contract in July 2011 for resignalling of the entire 170 route-km S-bane network, as the first of four major contracts in Banedanmark's Signalling Programme. The company is supplying its Trainguard MT CBTC, Sicas electronic interlockings and point machines, together with a new operations control centre. The work is being undertaken in six phases, and is due to be completed in 2018.
DSB's fleet of 135 trainsets is being equipped for Semi-Automated Train Operation, with no lineside signals. Moving block will allow headways in the central area to be shortened from 120 to 90 sec, and the contract includes an option for eventual conversion to Unattended Train Operation.
Commissioning of the Hillerød – Jægersborg section was described as 'a milestone for the Signalling Programme' by Banedanmark Project Manager Torben Arnbjerg-Nielsen. While warning that there may be some delays until the new equipment has bedded in, he said Banedanmark and DSB had conducted extensive testing ahead of the switchover. The infrastructure manager expects the new signalling to halve the number of signal failures, which have been the leading cause delays on the S-bane network.
Services on the Hillerød route had been suspended over the preceding weekend for final commissioning of the CBTC. Service patterns were temporarily rearranged to simplify operations during the transition period, with Line A trains only operating between Hillerød and Køge until the end of March.