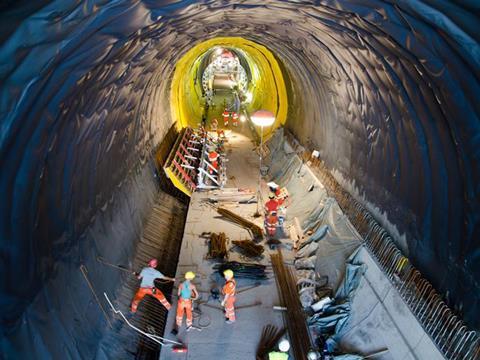 SWITZERLAND: Opening of the 15·4 km Ceneri base tunnel could be delayed by two years to December 2021 as result of tendering disputes, AlpTransit Gotthard warned a supervisory committee of the Swiss parliament on August 28.
The project promoter said that the effects that any such delay would have on the national timetable should be considered as soon as the Federal Administrative Court and Federal Tribunal issue definitive rulings on the dispute, because opening of the base tunnel is a precondition for the introduction of a half-hourly Lugano – Locarno service and the provision of 4 m clearances to Chiasso.
In March the Federal Administrative Court upheld appeals against ATG's award of a SFr96·4m tracklaying contract to the Mons Ceneris consortium of Mancini & Marti, Marti Contractors, Marti Tunnelbau, Pizzarotti, GCF and Valditerra Lavori Ferroviari, and a SFr138m railway systems contract to the CPC consortium of Cablex, Porr Suisse, Porr Bau, Condotte, Cossi and LGV.
The awards were annulled as result, with ATG aiming to issue new invitations to tender 'as soon as possible'. However, further appeals are still pending.
ATG now believes that if the tribunal were to rule that the contracts should be awarded to the original recipients by the end of September 2014, then the December 2019 opening date could still be met, albeit at an additional cost of SFr10m.
However, if new invitations to tender are required, then 'the most likely scenario' would be opening in December 2021, two years behind schedule and with additional costs of SFr100m. A worst-case scenario of a delay until early 2023 would bring additional costs of SFr144m.