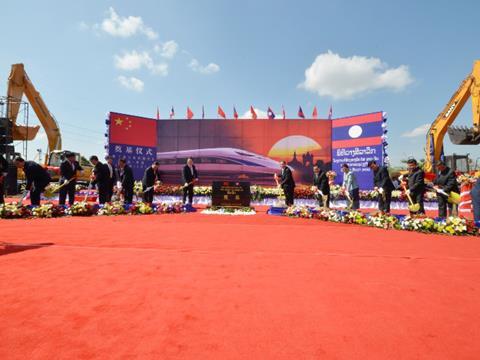 LAOS: A groundbreaking ceremony in Vientiane on December 2 marked the formal start of construction of a Chinese-backed standard gauge main line running north-south through Laos from the Chinese border to the Thai frontier at Nong Khai. Lao President Choummaly Sayasone ceremonially dug into a pyramid of sand, telling assembled guests that the railway would take around five years to complete.

The 417 km railway will be an extension of China Railways' existing line running south from Kunming in Yunnan province towards Vietnam. The Chinese and Lao governments agreed to develop the project in 2009, but disagreements over funding and labour stymied progress.

Intended to form part of a trans-ASEAN spine linking China with Singapore, the railway would enter Laos at the border with China at Louang Namtha, and run south through Luang Prabang to the capital Vientiane. From there it would be extended into Thailand, using one of the planned standard gauge routes which are to be developed under a Sino-Thai co-operation agreement. Currently the only railway in Laos is a short metre-gauge stub running across the River Mekong from Nong Khai in Thailand to a railhead at Tha Na Laeng.

The construction budget for the line through Laos is US$6·8bn, of which 40% is to be funded directly by the Chinese and Lao governments, with China taking a 70% share of this contribution. The remainder would be funded by various state enterprises and a series of low-interest loans from China to Laos.

Given the exceptionally mountainous terrain through which the railway would have to be built, 76 tunnels totalling 195 route-km would be required, plus 154 bridges accounting for a further 65 km. Five stations would be built to serve population centres along the route, along with up to 31 sidings, terminals or other access points. Although often described as a high speed line, maximum speed for passenger trains would be 160 km/h and 120 km/h for freight.