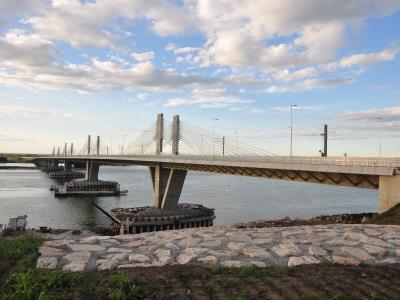 EUROPE: The Danube Bridge 2 over the River Danube linking Vidin in Bulgaria with Calafat in Romania was officially opened on June 14. The ceremony was attended by the prime ministers of both countries, as well as the EU Commissioner for Regional Policy Johannes Han.
'This bridge strengthens Europe', declared Bulgarian Prime Minister Plamen Oresharski. It forms part of Pan-European Corridor IV, which runs from Dresden to Istanbul and Thessaloniki. To be managed by a Bulgarian-Romanian joint venture, it will be used for freight and passenger traffic.
Construction started in 2007. FCC was the contractor and a consortium of Ingerop and High-Point Rendel undertook engineering design and supervision. The total cost was €275m, of which Bulgaria contributed €225m and Romania €50m, with significant portions coming from EU funds.
In addition to a single track railway, the 1·9 km bridge includes a four-lane motorway, a cycle path and two pedestrian walkways. As part of the project, 17 km of new railway has been laid, and a new freight terminal built and a passenger station refurbished, both on the Bulgarian side.
Until now Vidin and Calafat only had a ferry connection, which only sailed once it was full. This is only the second rail bridge linking the two countries. The single track unelectrified Ruse – Giurgiu bridge is in need of refurbishment, and there are plans to refurbish or replace it by 2020. There is also a single track freight line crossing the border between Kardam and Negru Vodă.