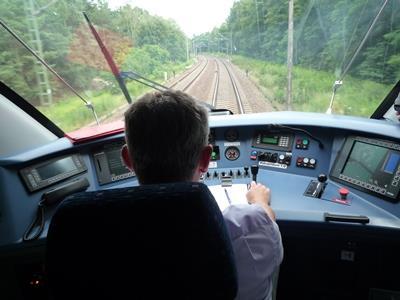 GERMANY: Introduction of ERTMS on the Emmerich - Basel section of the Rotterdam - Genova Corridor A is to be completed by the end of 2018, Deutsche Bahn confirmed on March 8.
Under the deployment strategy outlined by the European Commission in 2008, six priority corridors were due to be equipped with ERTMS by 2015. However, since 2011 Germany's Federal Ministry of Transport has been arguing that fitting STMs to large numbers of locomotives, enabling them to work with legacy train control systems, would be cheaper than premature replacement of existing equipment on the German sections of Corridors A, B (Stockholm - Napoli), E (Dresden - Budapest) and F (Aachen - Warszawa).
Infrastructure manager DB Netz has now reached agreement with the ministry on an implementation schedule to fit ETCS on the two parallel routes that form part of Corridor A. 'We are creating the conditions for a substantial improvement in cross-border traffic', said DB Netz CEO Oliver Kraft. However, he warned that 'timely implementation' still depended on reaching 'a financing agreement between DB and the federal government, which could be supplemented by EU funds'.
The implementation scenario developed by DB Netz and the ministry envisages a mix of ETCS Level 2 and Level 1 Limited Supervision, which is currently on test east of Berlin and also being installed in Switzerland. Both versions would accommodate interoperable operation in line with EU Directive 2008/57/EU.
L1 LS would permit operation at up to 160 km/h, and will be installed on lines currently equipped with the PZD intermittent ATP. As Level 1 is overlaid on existing signalling, this would not require any modifications to the interlockings. Lines now equipped with LZB for operation at speeds above 160 km/h are to be fitted with ETCS Level 2 Full Supervision. This is dependent on the provision of GSM-R and electronic interlockings that can interface with the Radio Block Centres.