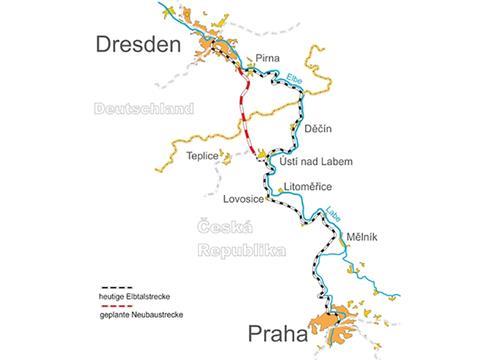 EUROPE: An agreement is to be signed 'this year' promising that German federal funding will be available to cover the planning costs of the northern part of the proposed Dresden – Praha high speed route, Federal Transport Minister Alexander Dobrindt said in a September 22 letter to Stanislaw Tillich, Minister President of the Land of Sachsen.
Dobrindt said that this would allow rapid progress with the development of plans for the Pirna – Ústi nad Labem section up to the point of obtaining construction permits.
Tillich said that he was grateful that the federal government had taken the first step towards implementation of the project following the signing of an agreement between Dobrindt and his Czech counterpart Dan Tok in Karlovy Vary on August 25. This acknowledged that it was essential to increase capacity on the most important rail link between the two countries, and that the German section of the Dresden – Praha project had been allocated priority status in the national rail infrastructure plan.
The proposal covers a 200 km/h line in Germany with a 26 km base tunnel across the German-Czech border. In the Czech Republic, this would join end-on with a proposed direct line to Praha with a design speed of up to 350 km/h. The German part of the line would be designed to carry freight which would no longer have to use the sinuous route along the Elbe valley.