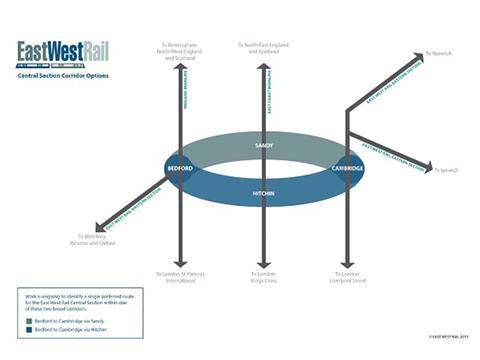 UK: Network Rail announced on March 29 that it had selected a Bedford – Sandy – Cambridge corridor as its preferred option for the Central Section of the East West Rail project to reinstate a rail link between Oxford, Cambridge and East Anglia.
NR had studied 20 possible corridors before choosing the option which it believes offers the best return on investment. These geographical corridors were broadly drawn, and the process was designed to select the places to be served, rather than to consider detailed alignments. NR told Railway Gazette that extensive studies and public consultation would be required before a 'line on a map' route is finalised.
Detailed information is to be published in May. NR will then work to define a more precise route and develop the business case, which would enable the scheme to be put forward for inclusion in the long-term industry planning process.
'We have assessed the benefits and costs of several potential broad corridors, with input from rail industry stakeholders and regional working groups', said Erica Blamire, Principal Strategic Planner at NR. 'We have considered the station catchment areas for population and employment, operating costs, forecast passenger demand, demand for short and longer distance journeys, and the impact on reducing crowding on the London rail network. We have also considered the infrastructure needs, train service opportunities and wider impacts that the railway would have.'
Passenger services on the Oxford – Bicester – London Phase 1 of the Western Section of East West Rail began in October 2015. Design and consultation work is underway for Phase 2 of the Western Section, which would rebuild underused and disused alignments to enable the start of Oxford – Bedford/Milton Keynes and Milton Keynes – Aylesbury – London Marylebone services.