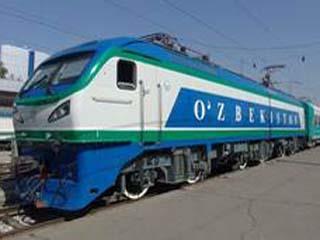 ASIA: The Asian Development Bank has approved funding for electrification in Uzbekistan and construction of a 225 km line in northern Afghanistan.
On September 28 the ADB board agreed a US$100m loan towards a US$176m modernisation of Uzbek national railway UTY's 140 km route between Marakand near Samarkand and Qarshi. Electrification at 25 kV and installation of modern signalling and telecoms on the single track line is scheduled for completion by March 2016, and staff training will be undertaken to strengthen institutional capacity.
Electrification is already in progress on the route from Qarshi to Qumqo'rgo'n and Termez, co-funded by UTY and the Japan International Cooperation Agency.
The routes form part of Central Asia Regional Economic Co-operation Corridor 6, which crosses Uzbekistan from Keres on the Kazakh border to Termez on the Afghan border. According to ADB, the line carries 10 million tonnes of freight a year, but capacity is limited by the use of diesel locomotives which are only able to haul short and slow trains on steeply-graded sections. Traffic includes supplies being delivered to international forces in Afghanistan through the Northern Distribution Network.
On September 20 ADB approved a US$754m multi-tranche package of transport assistance for Afghanistan. This includes rehabilitation of 578 km of roads, and the extension of the recently-completed 75 km Termez - Mazar-i-Sharif railway by 225 km west to Andkhvoy. The Afghan Infrastructure Trust Fund is providing US$33m, and Japan and the UK are also contributing. Meanwhile, Turkmenistan is also developing plans for a cross-border rail link to Andkhvoy.