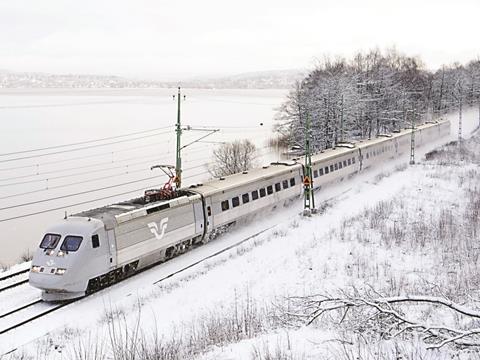 SWEDEN: The timetable for installation of ETCS Level 2 in southern Sweden has been extended by two years, Trafikverket announced on January 13.
Following a joint assessment and discussions with train operators the infrastructure manager has agreed to reschedule the programme, providing more time to phase out older rolling stock and retrofit the fleets with ETCS onboard equipment. The work will still start in 2023, but completion has been put back by two years to 2029; according to Trafikverket this will have no impact on the overall cost.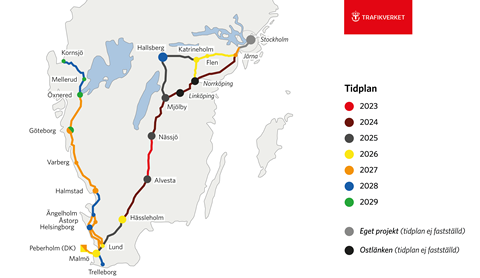 The biggest changes affect the Stockholm – Katrineholm – Hallsberg section of the Stockholm – Göteborg main line, the Mjölby – Malmö section of the southern main line leading to Denmark and the west coast route from Trelleborg to the Norwegian border at Kornsjö via Helsingborg and Göteborg.
Major infrastructure projects are underway or planned at several locations on the routes being equipped with ETCS, notably at Hallsberg, and the resignalling needs to be co-ordinated with these works. Detailed planning is also needed for the larger stations and other critical junctions.
Trafikverket says train operators have expressed concern over the need to equip regional trains working routes that intersect with the trunk lines at junctions such as Nässjö and Alvesta, but the revised programme should ease the workload. Conversely, work around Malmö needs to be brought forward to match the revised timescale for ERTMS installation on the Danish side of the Øresund link.
Trafikverket says no timescale has been set for the introduction of ERTMS at Norrköping and Linköping, which needs to be phased with the Ostlänken high speed line project. It is also planning to develop a separate 'cohesive' programme for equipping the Stockholm area.
'We have an ongoing dialogue with stakeholders in the rail industry and we have taken note of their input', explained Trafikverket's project manager Patrik Assarsjö. 'We also need to co-ordinate the programme with other ongoing infrastructure projects, and create an extra buffer for implementation. ERTMS is a large and complex project that will continue for several years, and we need to relate to what the reality actually looks like. The new schedule gives the industry even better conditions for a smooth roll-out.'