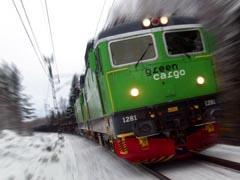 SWEDEN: The ETCS Level 2 installation on Trafikverket's Haparandabanan leading to the Finnish border at Tornio was put into revenue service on December 16. The first Green Cargo freight train to run under ETCS departed from Boden at 04.10 that morning and arrived in Haparanda just over 2 h later.
Including a 42 km cut-off between Kalix and Haparanda opened in December 2012, the line from Boden has been electrified at 15 kV 16·7 Hz and resignalled with EU assistance to increase capacity for cross-border freight traffic.
The route is the first in Sweden to demonstrate interoperability between ETCS equipment from different suppliers. Ansaldo STS has provided the lineside installation, and Bombardier the onboard equipment.
More than 70 test runs have taken place since 2011. 'We have shown that our system is stable and works together' said Trafikverket's ETCS Project Director Anders Strandberg. 'When we introduce ERTMS in Sweden on a large scale, there will be several providers to ensure a competitive market.'
The project team will monitor performance during the first half of 2014. Ansaldo STS is expected to deliver a new software release in December, which Strandberg says will include the features that Trafikverket needs to begin equipping its section of Corridor B between Stockholm and Malmö.