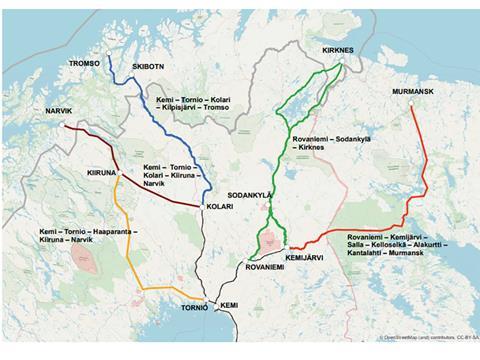 EUROPE: A report into options for a rail link from Finnish Lapland to the Arctic Ocean has been published by Finland's Ministry of Transport & Communications. This concludes that a 465 km route from Rovaniemi via Sodankylä to Kirkenes in Norway would be the best option.
The cost is estimated at €2·9bn, of which Finland would fund €2bn. The route is not expected to be profitable in itself, but could bring an increase in trade in the region.
Transport Minister Anne Berner said the proposed line would 'improve Finland's logistical position and accessibility', providing an alternative to the Baltic Sea which has historically been the country's dominant international trade route. 'The Arctic link is an important project as it would securely connect continental Europe with Arctic areas and a rail connection would improve the commercial prospects of businesses in the northern area', Berner said.
Five routes from Finland to coastal towns in Norway or Murmansk in Russia were studied. Berner cautioned that while the route selected jointly with Norwegian officials was the most realistic, it would require further study by a joint working group which is to report back by the end of the year. This will include research into the impact on the environment and reindeer husbandry.