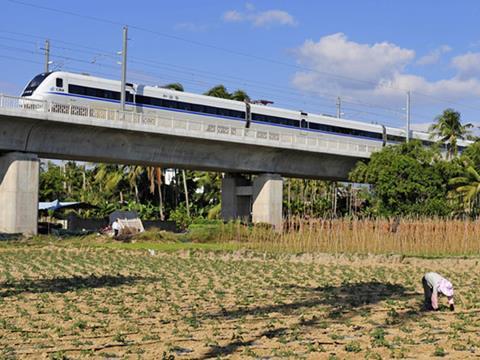 CHINA: The high speed line down the east coast of the island province of Hainan was officially opened on December 30, with a ceremony which also launched construction of a second phase along the west coast which will form a high speed rail ring around the island.
The initial line runs 308 km down the eastern seaboard from Haikou to the second city of Sanya, and was built in three years at a cost of 20·2bn yuan. It has cut the journey time between the cities from more than 3 h by road to just 90 min by train. Eight-car CRH1A trainsets running at up to 250 km/h provide 10 return services a day, offering a daily capacity of 12 900 passenger-journeys with fares priced at around 20% more than long-distance bus services.
This line is intended to facilitate easier travel between tourist destinations including Wenchang, Qionghai, Bo'ao and Sanya. There are an initial 10 stations, with five more scheduled to open soon. The line has cut the journey from Haikou's Meilan airport to the city to just 7 min, and Sanya - Lingshui by two-thirds to 22 min. In Sanya, the line joins the existing West Ring conventional line back to Haikou, with links by train ferry across the Qiongzhou Strait to the mainland.
The 344 km West Rail high speed route is now under construction and will complete a round-the-island high speed line linking most of the coastal towns and cities within four years.
On January 7 a 150 km Passenger-Dedicated Line was opened between Guangzhou in Guangdong province and the port city of Zhuhai, just north of Macau. Journey time is 40 min.