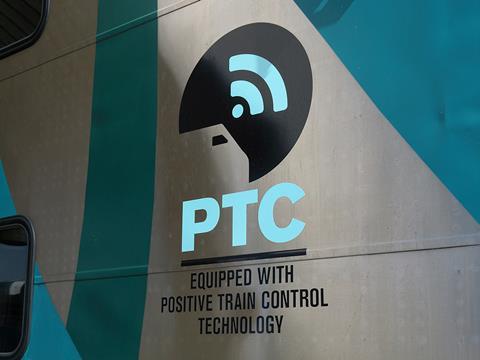 USA: The Federal Railroad Administration announced on August 16 the award of a total of $25m to 11 projects to assist with the implementation of Positive Train Control. The FRA received 30 eligible applications requesting a total of $90·6m. The projects selected are:
Metrolink (California): $2·4m to develop, test, and deploy a full-feature service desk management suite of software applications. This will allow each railway to create, track, manage and share PTC system and asset trouble tickets internally and with interoperable partners.
Sonoma-Marin Area Rail Transit District (California): $3m to install PTC and integrated new level crossing warning systems on a 3·4 km extension between downtown San Rafael and Larkspur.
Caltrain (California): $2·88m to test Interoperable-Incremental Train Control System that will allow other operators' locomotives to use Caltrain's tracks;
Amtrak: $2·64m for authentication technology to fully secure wireless communication between a train's point of origin and targeted receivers on the Northeast Corridor;
American Short Line & Regional Railroad Association: $2·5m to create a Crew Initialisation Back Office Server System hosted service to assist small railroads tasked with implementing PTC, particularly those that interoperate with Class I railways;
Providence & Worcester Railroad Co: $0·97m to acquire and install eight Advanced Civil Speed Enforcement System PTC onboard units for locomotives used on the Northeast Corridor;
Twin Cities & Western Railroad Company (Minnesota): $1·1m to implement and test PTC, including a contract with a back office service and interoperability message software provider, initial activation and licensing fees of hosted back office systems, and two PTC equipped locomotives.
Missouri Department of Transportation: $3m to jointly partner with the Terminal Railroad Association of St Louis for I-ETMS implementation;
North Carolina Department of Transportation: $0·77m to equip five converted driving cars with I-ETMS;
Capital Metropolitan Transportation Authority (Texas): $3m to implement an Enhanced Automatic Train Control overlay on the existing signalling system and enhance onboard, wayside, and control office equipment and software in the Austin area.
Fort Worth & Western Railroad (Texas): $2·56m to install PTC and 220 MHz radios on nine locomotives, develop a crew initialisation back office server and train staff.
'These grants get us a bit closer to implementing Positive Train Control, a long overdue technology that prevents accidents and saves lives', said Transportation Secretary Anthony Foxx. 'We will continue to do everything in our power to help railroads install this technology. We encourage Congress to fully-fund the President's request for significant funds to help more railroads activate PTC.'
Welcoming its grant, the ASLRRA said short lines have to fund PTC implementation with scarcer resources and at a higher cost per kilometre compared to large railways. A committee had been appointed to explore implementation options for its members, and this determined that a single-source back office would lower costs, accelerate implementation and increase interoperability. An ongoing service model will ensure that configuration management and upgrades were handled seamlessly for participating railways.
'The implementation of PTC is one of the most complex and challenging projects to be mandated for the US rail system, particularly for our 460 short line members, who often do not have the technology staff and expertise, but have a complicated roll to play, integrating with multiple Class I systems', said ASLRRA President Linda Bauer Darr on August 16. 'This grant will enable us to rapidly move forward with providing an affordable solution for small railroads.'