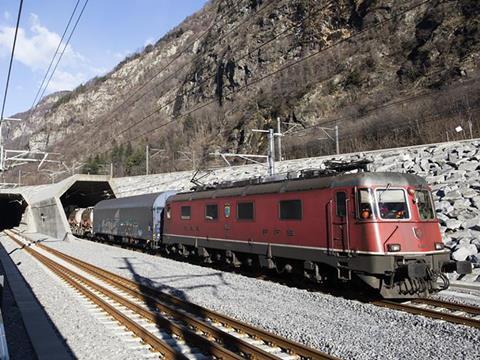 SWITZERLAND: Testing of freight rolling stock in the 57 km Gotthard Base Tunnel began on January 16, when project promoter AlpTransit Gotthard and SBB Cargo undertook trials with a variety of wagon types including two rolling motorway lorry-carrying vehicles. Further tests over the coming weeks will assess vehicle dynamics and verify the running times for future freight trains.
AlpTransit Gotthard's test programme began October 1 and is expected to last until the end of May, by which time around 3 500 test runs will have taken place. Future passenger services through the tunnel will run at up to 250 km/h, and in November DB's ICE-S test train was used for testing at speeds up to 275 km/h.
The opening celebrations for the world's longest railway tunnel are planned for June 1, with regular services from December 11.