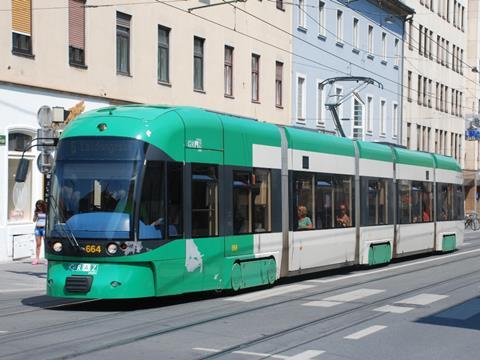 AUSTRIA: Graz Mayor Siegfried Nagl and Steiermark Infrastructure Minister Anton Lang signed an agreement on February 5 for financing of six tram projects in the city.
The Land of Steiermark will provide €43·8m of the €117·4m total in 15 yearly instalments, with the city council providing a further €44·1m. The two parties hope that the federal government would fund the remaining share.
Three extensions of the network are planned. The Reininghaus project covers a 1·8 km route from Eggenberger Straße to a turning loop in at the former Hummel Barracks. Due to be built in 2019-21, this would cost €44·1m, including around 4 km of footpaths and cycle paths.
The 1·1 km Smart City extension would run north from Asperngasse to Peter-Tunner-Gasse via Waagner-Biro-Straße. This would be built in 2020-21 at a cost of €22·4m.
A 1 km route is to be built across the River Mur in the city centre connecting Jakominiplatz with Annenstraße via Neutorgasse, Belgiergasse and Vorbeckgasse. This would cost €27m and be built in 2021-23.
Three double-tracking projects are also planned. Line 5 is to be doubled between Zentralfriedhof and Puntigam at a cost of €15·3m, with work taking place in 2022-23. Line 1 would be doubled between Hilmteich and Mariagrün in 2023 at a cost of €6·3m. The northeastern section of Line 1 would be partly doubled, between Kroisbach and Wagnesweg, and around Teichhof. This would cost €2·3m, with work carried out in 2018-19.