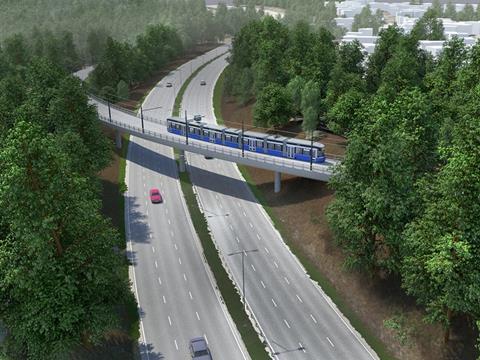 FINLAND: Helsinki transport operator HKL and the City of Espoo have selected a consortium of YIT and VR Track as construction contractor for the Raide-Jokeri orbital light rail line. The contract is expected to be signed by the end of November.
The project costs and timescale will be finalised next year. Design work is being undertaken by Ramboll Finland, Sito and VR Track, and it is expected that construction will start in 2019.
The 25 km route linking Itäkeskus in eastern Helsinki to Keilaniemi in eastern Espoo is intended to replace the busy bus route 550. The alignment would be mostly segregated from other traffic, with 16 km in Helsinki and 9 km in Espoo. Škoda subsidiary Transtech is supplying a fleet of 29 Artic XL trams to operate services.
The 14 km western extension of the Helsinki metro from Ruoholahti to Matinkylä is expected to open on November 18.