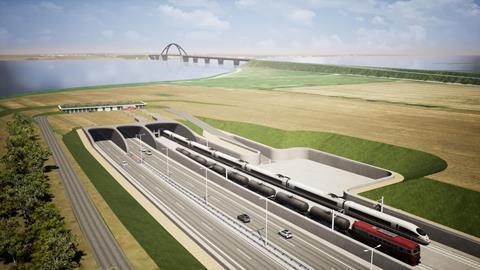 GERMANY: To create an 'efficient' north-south pan-European corridor, the federal Ministry of Transport has reached agreement with DB Netz and the Land of Schleswig-Holstein to build an immersed tunnel carrying rail and road links under the Fehmarn Sound between eastern Holstein and the island of Fehmarn.
As part of the project to upgrade rail and road links to the future Fehmarn Belt fixed link being built under a Danish-led project, it was recognised that the 1963-built Sundbrücke would not be able to cope with future traffic volumes.
Extensive investigations were undertaken into variants including bored and immersed tunnels, or separate or combined bridges.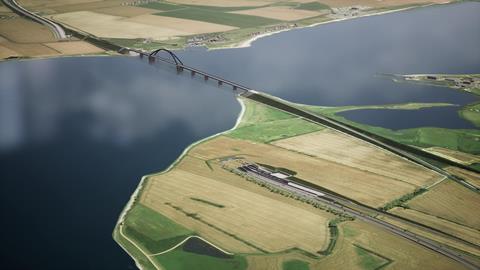 The selected option will see the construction of a 1·7 km immersed tube tunnel to accommodate four road lanes and two railway tracks for through traffic. The existing bridge will be retained and renovated for pedestrians, cyclists and local road access.
Total cost of the project is put at €714m, with the new tunnel to be commissioned in 2028 to coincide with completion of the Fehmarn Belt fixed link.
Noting that 'the immersed tunnel showed itself to be a stable and superior variant in the sensitivity analyses', State Secretary Enak Ferlemann said he was 'particularly pleased that the wishes of the region have been fully taken into account and that the old Fehmarnsund Bridge will be preserved as a landscape-forming structure'.
DB Board Member for Infrastructure Ronald Pofalla emphasised that the Fehmarnsund crossing was 'a central element for more rail traffic on a new European north-south axis', adding that the link would be 'more efficient than the previous one'.
Explaining that the decision was the result of 'a long dialogue process', Schleswig-Holstein Transport Minister Bernd Buchholz said it was 'important to get the further planning process off to a legally secure start so that we can take advantage of the huge opportunities offered by the Fehmarn Belt crossing as quickly as possible'.