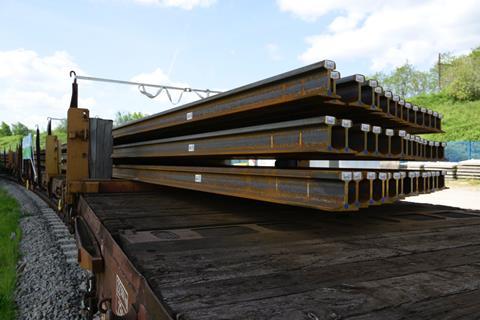 BELGIUM: Infrabel has started a transition to using more environmentally friendly rails, produced using recycled material rather than fresh steel.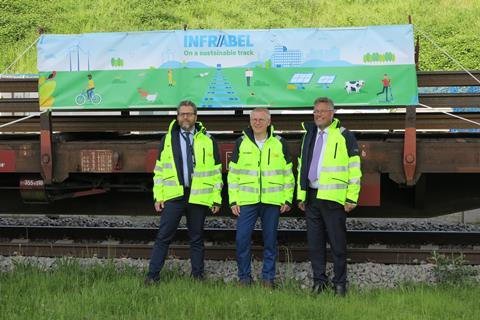 The infrastructure manager's first delivery of 'greener' rails was marked with a ceremony at its Schaerbeek production facility north of Brussels on May 17, attended by Minister of Mobility Georges Gilkinet, Infrabel CEO Benoît Gilson and the Chairman of the Saarstahl Management Board Dr Karl-Ulrich Köhler.
Infrabel installs between 450 and 500 km of new rail each year, both for track renewals and new construction. It uses a mix of UIC standard 60E1 profile rails for main lines and a specific Belgian 50E2 profile for secondary routes, comprised of both the standard R260 grade steel and premium head-hardened 350HT rails.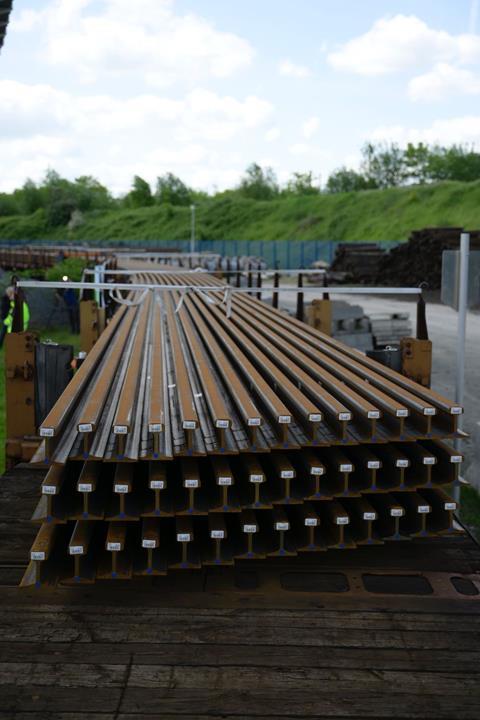 Following a competitive tender launched at the end of 2022, the infrastructure manager has awarded a €200m framework contract to Saarstahl Rail for the supply of up to 2 800 km of rail over the next four years. While batches will be ordered to meet local requirements, the total is expected to comprise around 65% of the 60E1 profile and 35% of 50E2 rails.
Rails are delivered in 100 m lengths to the Infrabel workshop, where they are flash-butt welded into 300 m strings ready for installation across the network. The initial delivery on May 17 comprised 900 tonnes of 60E1, totalling 15 km of rail.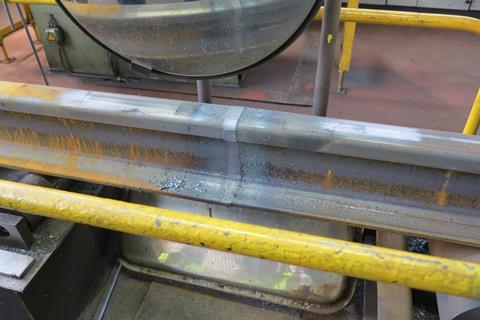 The rails are rolled at the former British Steel rail mill at Hayange near Thionville in northern France, which was acquired by the Stahl-Holding-Saar group in August 2021. Steel for the plant is supplied from the Saarstahl Arcoval electric arc furnace near Valenciennes. In what Saarstahl Rail said was a 'circular economy approach', the furnace is mostly fed using recycled scrap rail from various networks, as well as scrap from the Hayange plant itself. This ensures that the greener rails have the same metallurgical and performance properties as traditional rail.
The company says the process emits up to 70% less CO2 than manufacturing new steel from iron ore and coal as raw materials, thanks in part to the use of nuclear generated electricity to power the plant. Infrabel estimates that its four-year contract will reduce its emissions by around 224 000 tonnes, equivalent to the annual carbon footprint of 9 000 average households.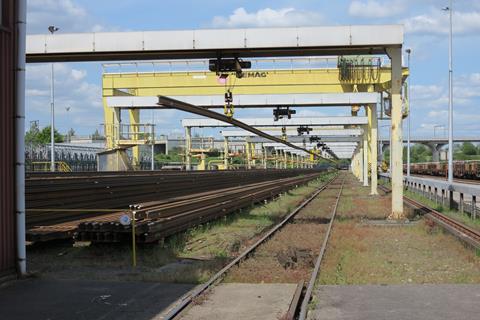 The infrastructure manager explained to Railway Gazette that it had already introduced environmental and social criteria for certain procurement contracts, in accordance with the provisions of the Public Procurement Act, but the rail tender did not include a specific environmental criterion. The Saarstahl Rail bid was judged to be the most competitive, without consideration of the additional environmental benefits from the greener manufacturing process.
'The train is already the most sustainable means of transport, but we can improve it even further by reducing the carbon footprint of the rail infrastructure', commented Gilkinet. 'What Saarstahl's innovative solution demonstrates is that the environmentally friendly and circular approach can also be the most cost-effective.'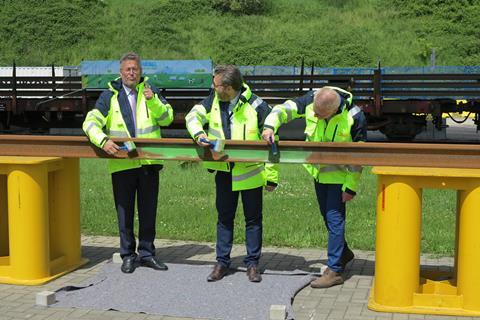 ' Saarstahl has shown that the market is evolving towards innovative, more sustainable and competitive solutions', added Gilson. 'Infrabel has been following these developments closely and will adapt its procurement policy accordingly, stimulating innovation and contributing to a sustainable railway sector.'
According to Saarstahl, the Hayange plant delivered 262 000 tonnes of rail in 2022, of which 227 000 tonnes was manufactured from recycled materials, resulting in an estimated saving of 415 000 tonnes of CO2.
'Saarstahl Rail focuses on two factors for its infrastructure products: high quality and sustainability', explained Köhler. 'With our green rails made from low-carbon steel, we have created a product for environmentally conscious customers that is without parallel in Europe.'
While Hayange is able to supply rails in lengths up to 108 m, Infrabel's current deliveries are limited to 100 m by the configuration of its welding plant at Schaerbeek. The infrastructure manager is now developing plans to replace the 30-year old facility with a new production line which would be able to accommodate rails of up to 120 m and produce 360 m strings.