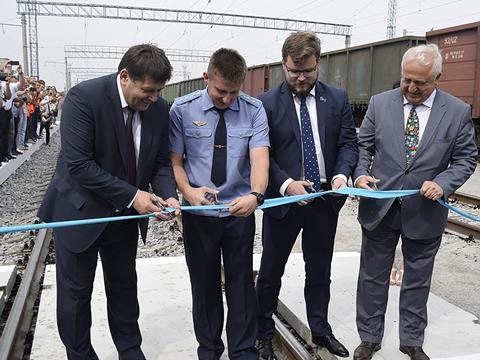 UKRAINE: Vice Prime Minister Volodymyr Kistion ceremonially inagurated electric haulage on the 13·4 km Potoki – Zolotnyshyne route on September 6.
The €6·2m project to electrify the line serving a large Ferrexpo open cast iron ore mine had got underway in February, as the first significant electrification project in the country for six years.
National railway UZ operates 10 trains each way per day on the line, and expects the switch from diesel to electric haulage to reduce costs by €1·52m/year.
The line connects with the 118·5 km Poltava – Potoki – Kremenchuk route which was electrified in 2011.
UZ is planning to modernise and electrify the 148 km Dolynska – Mykolaiv line in 2019 to improve access to the port of Kherson. Other planned electrification scheme include Kovel to Izov and Hrubieszow in Poland (91 km), Mykolaiv – Kolosivka (105 km) and Ovruch – Korosten – Zhytomyr – Berdychiv (215 km).