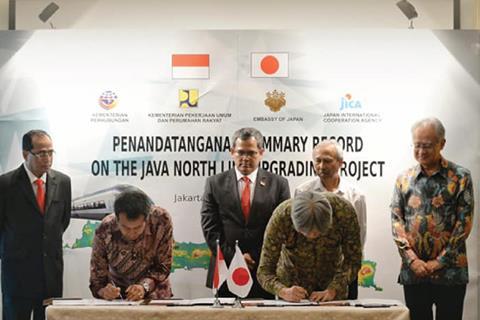 INDONESIA: A summary record agreement for the Java North Line Upgrading Project to provide 'medium-speed' operation on the 720 km Jakarta – Surabaya route on the island of Java has been signed by the Ministry of Transportation and Japan International Co-operation Agency following two years of negotiations.
Preparatory studies for the project were initiated by JICA earlier this year and are due to be completed by the end of May 2020. Subject to a positive outcome, construction is expected to start next year.
The existing 1 067 mm gauge line would be extensively modernised to permit 160 km/h operation, with new elevated alignments built in urban areas and all level crossings eliminated.
Under the September 24 agreement the project would be undertaken in two phases, with the 436 km from Jakarta to Semarang to be completed by 2024 and the 284 km from Semarang to Surabaya to follow.
At the signing ceremony officials from both countries put the initial cost of the project at Rp60tr, to be funded by Japanese loans, although some media reports suggest the final value could be up to Rp90tr. JICA is studying options for Indonesian companies to participate in the project under knowledge transfer schemes.
According to the Ministry of Transportation the completion of the project would halve the journey time to 5½ h.
Around 8 million people are estimated to travel between the cities each year, and the Agency for the Assessment & Application of Technology predicts that at least 12% of air passengers would switch to rail.