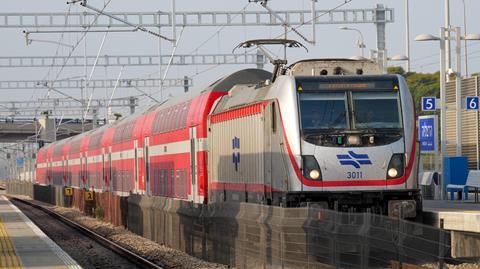 ISRAEL: Israel Railways began test running of electric trains between Jerusalem, Tel Aviv University and Hertzliya on September 6, following the completion of 25 kV 50 Hz electrification on the northern section of the Ayalon Corridor.
According to ISR CEO Micha Maiksner, the electrification to Hertzliya has been completed six months ahead of schedule. Work was accelerated following the negotiation of a revised contract with Spanish contractor SEMI at the behest of the ministries of transport and finance. This saw electric trains reaching Tel Aviv Savidor three months ago. Thanking the contractors for their efforts, Maiksner said 'the completion of electrification along the entire length of the A1 line, together with the vigorous work to electrify the lines to Ashqelon and Keshet Hasharon, prove the viability of accelerating the electrification programme.'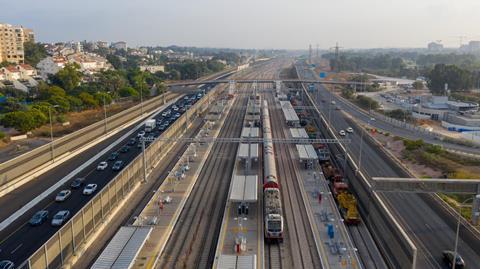 Following the testing of electric trains without passengers, commercial services are expected to start within the next few weeks. ISR plans to operate two through trains per hour in each direction at a maximum speed of 160 km/h, offering journey times from Jerusalem's Yitzhak Navon station of 47 min to Tel Aviv University and 55 min to Hertzliya. Connections will be provided at Hertzliya with services to Ra'anana, Hod Hasharon/Sokolov and Kfar-Sava Nordau.
'Completion of the electric train link between Jerusalem Navon and Hertzliya, as part of the electrification of the rail network, will provide a better solution than travelling in a private car, reduce air pollution and allow a green and quiet train ride', commented Minister of Transport & Road Safety Miri Regev. 'As I said when I took over as minister, the only solution to the problem of traffic jams in Israel is through accessible, convenient and advanced public transport.'