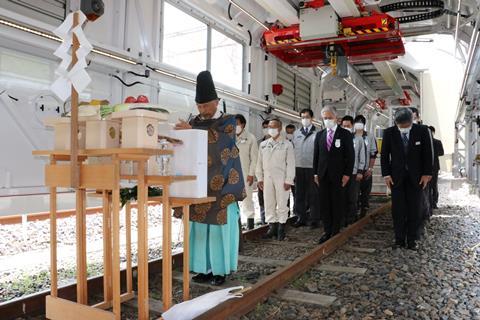 JAPAN: East Japan Railway has taken delivery of a Robel Mobile Maintenance System, as part of a strategy to invest in advanced equipment that improves the efficiency of manual track maintenance tasks and worker safety.
Derived from Robel's ROMIS range of mobile track maintenance equipment, the 1 067 mm gauge unit has been designated GMAC (Next Generation Maintenance Machine) by JR East. It combines a storage vehicle and a working vehicle with direct access to the track. Staff are able to perform maintenance and inspection tasks within a protected space, with power, lighting and lifting facilities to hand.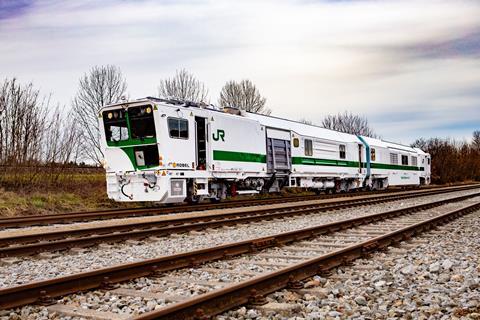 Working with its local partners Nippon Plasser and Mitsui Plant System Co, Robel has supplied the Mobile Maintenance and Loading units, which are coupled to a Japanese traction unit. The GMAC is due to be deployed for maintenance and inspection work on the Joban line from the second half of this year.
This is the second large machine that Robel and its partners have supplied to JR East. A 1 435 mm gauge REX-S 1200 Rail Train has been operating on the railway's Shinkansen routes since 2017. The company expects to supply further machines for preventive maintenance to Japan from 2021.
Despite the restrictions posed by the coronavirus pandemic, a traditional commissioning ceremony for the GMAC was held at JR East's Ueda track maintenance depot in Fukushima prefecture. This was attended by managers from the railway's Mito Branch, Iwaki Track Maintenance Technology Centre, the Electric Power Technology Centre and Haranomachi Maintenance Centre, along with representatives from Union Construction Co.
'We are honoured that Japanese network operators are positioning themselves for the future of infrastructure maintenance using our products', said Robel's Head of Sales for Systems & Vehicles, Michael Seeleithner when the delivery was announced on June 19. 'Despite intensive use and the high volume of traffic, Japan's railways are considered the most reliable in the world.'