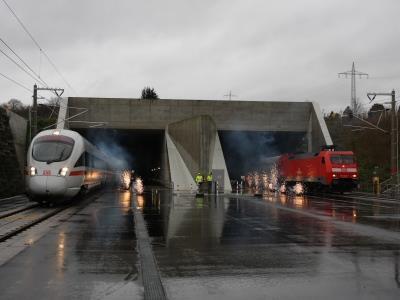 GERMANY: Federal Transport Minister Peter Ramsauer joined the celebrations at Efringen-Kirchen on December 4 to mark the formal opening of a 17·6 km cut-off at the southern end of Deutsche Bahn's Rhein Valley line in Baden-Württemberg.
He was accompanied by DB Chairman Rüdiger Grube, Baden-Württemberg's Transport Minister Winfried Hermann and other VIPs to watch an ICE and a freight train emerge in parallel from the twin-bore Katzenberg tunnel.
Completed at a cost of around €610m, the cut off marks another step in the long-running programme to quadruple and upgrade the Karlsruhe – Basel line, which forms a key section of pan-European Corridor 1 from Rotterdam to Genova.
With effect from the December 9 timetable change, inter-city services and heavy freight trains will no longer thread their way through the tortuous Rhein Gorge between Schliengen and Haltingen, where the line hugs the river to skirt the so-called Isteiner Rock. The many tight curves along this 21 km section limited speeds to just 100 km/h, and even 70 km/h in places.
The cut-off carrying the second pair of tracks between Bad Bellingen and Efringen-Kirchen slices directly through the vine-covered hills in a straight alignment, allowing ICEs to run at 250 km/h and cutting 10 min from the Freiburg – Basel journey times.
Built by a consortium of Züblin, Wayss & Freytag, Marti Tunnelbau and Jaeger, the 9 385 m long Katzenberg tunnel is the third longest rail tunnel in Germany. It has two single-track bores 26 m apart, connected by 19 cross passages at 500 m intervals. The tunnel is laid with ballastless slab track from Max Bögl, which has been modified to provide a level surface so that emergency road vehicles can access the two bores.
Following the completion of tracklaying earlier this year, the first diesel-hauled train ran over the cut-off at 20 km/h in July, and overhead line installation was completed by the end of August. Trial running began in early September, with DB's ICE-S test train reaching 275 km/h on October 5.
Following the opening of the cut-off, DB Netz is planning a blockade of the existing route between April and September 2014 to undertake extensive track renewals, strengthen the embankments and install noise barriers.