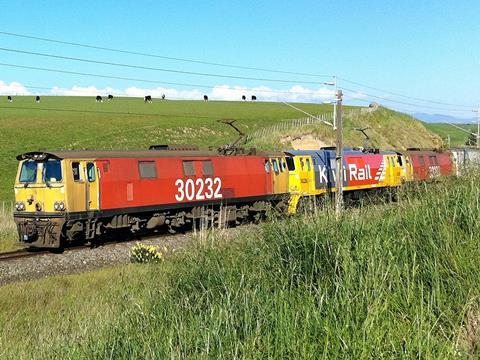 NEW ZEALAND: Following two years of studies, national railway KiwiRail announced on December 21 that it had decided to cease electric haulage of freight trains on the North Island Main Trunk line in favour of using diesel locomotives.
Electric traction will be phased out over the next two years, but the 25 kV 50 Hz infrastructure is to remain in place and will be maintained 'to a safe standard for any future use'.
The central 410 km Hamilton – Palmerston North section of the 680 km Wellington – Auckland NIMT is electrified, and Chief Executive Peter Reidy said this meant that KiwiRail is currently running 'a railway within a railway', and 'that's not efficient, it's more costly and ultimately delivers a less reliable service'.
Electrification of the entire NIMT was costed at an unaffordable NZ$1bn, and so KiwiRail had investigated options to upgrade the fleet of 16 Brush Class EF electric locomotives dating from 1986-88, replace them with new or second-hand electric locos or replace them with diesels.
KiwiRail said that on average its electric locos were breaking down every 30 000 km, compared to a fleet target of 50 000 km. Only eight extra diesel locos would be needed to replace them, as existing locomotives would be used more efficiently.
KiwiRail said environmental factors had been taken into account alongside the 'driving factors' of reliability and performance improvement for customers. 'Without a reliable and efficient service, our customers will not move freight on rail and every tonne of freight moved by rail delivers a 66% reduction in carbon emissions from road', said Reidy. 'We looked long and hard at the electric options and for our business, and most importantly our customers, they just did not stack up. Ultimately the high costs of a new or refurbished electric fleet couldn't be justified, while the gains to be made from standardising our fleet were very compelling.'