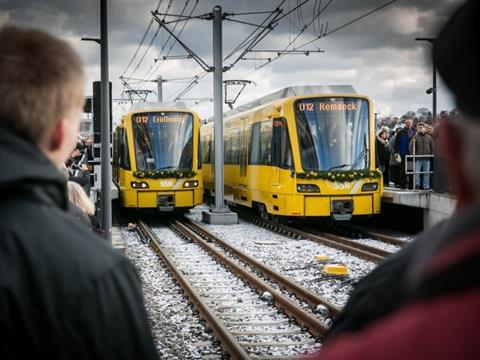 GERMANY: An extension of the light rail network in Stuttgart was inaugurated on December 9, linking two existing lines with a new tunnel section offering a shorter and more direct route to the northeast. The 1·2 km link between Hallschlag and Wagrainäcker has an intermediate stop at Bottroper Straße.
The new link is served by route U12, which leaves the cross-city tunnel at Hauptbahnhof, and runs via Milchhof and Nordbahnhofstrasse, serving a new stop at Budapester Platz. After traversing the new tunnel, U12 joins the existing tracks used by U14 shortly before the Aubrücke bridge over the River Neckar. Heading out of the city, U12 services now run through to the end of the line at Remseck Neckargroningen, while U14 has been cut back to terminate at Mühlhausen.
The opening of the tunnel coincides with the introduction of 80 m long trains of coupled LRVs on U12, nearly doubling capacity of the route. 'We have put into service another keystone of the city's transport infrastructure, which will support the provision of sustainable mobility in the Land capital', said SSB Chief Executive Wolfgang Arnold.