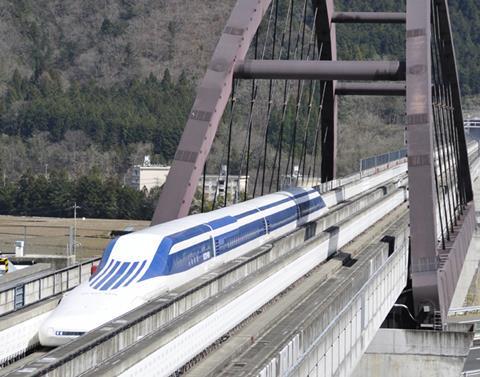 JAPAN: Construction of JR Central's Chuo Shinkansen between Tokyo Shinagawa and Nagoya using superconducting maglev technology is expected to start towards the end of this year, possibly in October or November.
The date will depend on satisfactory completion of the environmental impact assessment process following the publication of a report last September. At that time JR Central also announced details of the route and the location of intermediate stations.
Work is expected to start at several sites, with construction teams likely to commence with the major tunnels because of the long lead times; a high proportion of the alignment will run in tunnel.
JR Central has tested and developed the technology on the 'priority section' of the alignment in Yamanashi prefecture since 1997, which was extended last year from 18·4 km to 42·8 km.
The 286 km line is due to be open in 2027, but there is pressure to complete another 5 km segment linking the priority section to the site of the planned station at Kofu in time for the 2020 Olympics. This would allow JR Central to demonstrate its superconducting maglev technology to large numbers of visitors.
JR Central has committed to bear the ¥5·4tr construction cost of the Tokyo – Nagoya line; the company has already spent ¥355bn of its own capital on extension of the test guideway.