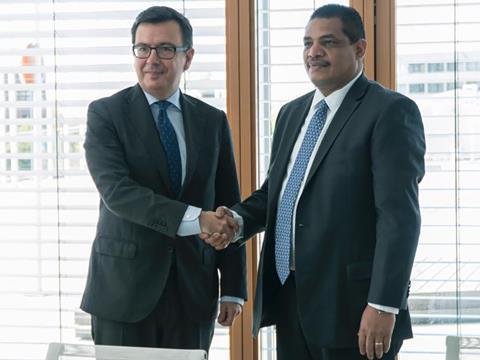 NICARAGUA: A US$136m loan agreement to finance the construction of a 9·6 km bus rapid transit route on one of the busiest transport corridors in Managua was signed by Minister of Finance Iván Acosta Montalván and the European Investment Bank on May 15.
Avenida Juan Pablo II is to be widened from two to three lanes in both directions, with the third lane segregated and reserved for buses. A bicycle lane will also be built alongside the corridor, and overpasses and traffic light crossings provided to improve facilities for pedestrians.
There will be 17 stops on the BRT route, and ridership on the high-capacity buses is estimated at 80 000 passengers per day.
The project forms part of an action plan for Managua which has been designed by the government with a view to both increasing mobility and enhancing the city's ability to cope with possible natural disasters. The EIB is providing financing under the EU Latin America lending mandate for 2014-20, with the aim of improving safety and sustainability and helping to combat climate change.