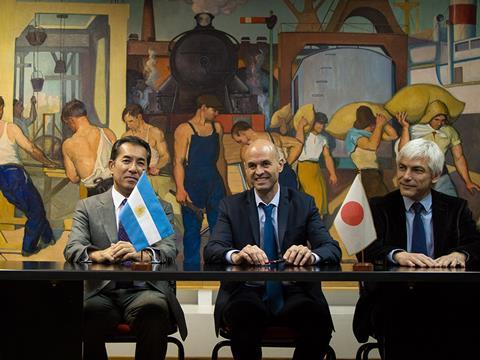 ARGENTINA: On August 4 Minister of Transport Guillermo Dietrich signed a contract with Marubeni Corp of Japan covering the supply of Automatic Train Stop technology for the Buenos Aires commuter network.
Worth US$63m, the contract forms part of what the government says is the largest railway safety investment programme undertaken in Argentina over the last 30 years, which would see 280 trainsets and 1 500 track-km equipped with ATS at a total cost of US$250m.
ATS is currently operational on 10% of the Buenos Aires commuter network, and during 2018 should be installed and brought into use on the Urquiza, San Martín, Belgrano Sur, Belgrano Norte and Sarmiento routes. This would be followed in 2019 by the Mitre and the rest of the Roca, as well as the Tren de la Costa light rail route.
To date, contracts worth a total of 2∙7bn pesos have gone out to tender, covering the upgrading of existing signalling equipment for ATS on the San Martín, Belgrano Sur, Urquiza and Roca routes. The first two of 43 EMUs to be equipped with ATS have begun operating between Constitución and Ezeiza on the Roca route.