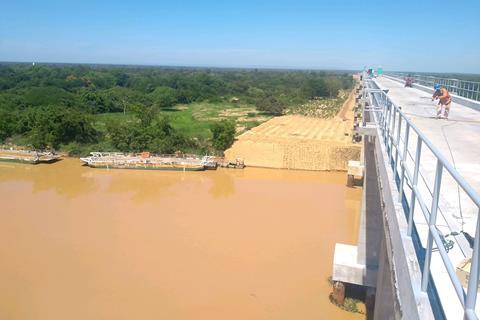 BRAZIL: Visiting the grain producing centre of São Desidério in Bahia state on May 18, Transport Minister Tarcísio Gomes de Freitas announced that the Brazilian army would be brought in to build part of the Ferrovia de Integração Oeste-Leste project.
Inspecting a construction site and visiting a sleeper manufacturing plant, the minister said that the army would help build the FIOL route between São Desidério and Bom Jesus de Lapa. The work has been allocated to the 2nd Railway Battalion and the 4th Construction Engineering Battalion.
The São Desidério – Bom Jesus de Lapa segment forms Lot 6 of the 485 km Caetité – Barreiras central section of the 1 527 km line, which is intended to link Figueirópolis in Tocantins state with Ilhéus on the Atlantic coast, where a deep-water harbour is to be built at Porto Sul by a consortium that includes Chinese companies. The line will form an export corridor for iron ore and agricultural products from Tocantins, Goiás and Bahia states.
The central section costing R$3bn passes through the Serra do Boqueirão and includes a bridge over the São Francisco River. Work is between 35% and 40% complete, significantly less than on the 537 km section between Caetité and Ilhéus, where about 80% of work has been finished.
De Freitas had earlier indicated that he was seeking R$480m from the national budget towards the East-West Integration Railway. The funds would come from the Pró-Brasil national economic stimulus package announced on April 24.
Construction of the 505 km final section between Barreiras and Figueirópolis lags behind the other two sections – an application to build it was submitted to the Brazilian Institute of Environment & Renewable Natural Resources in 2015. When completed, this would connect the east-west FIOL with the Norte-Sul Railway at Figueirópolis.