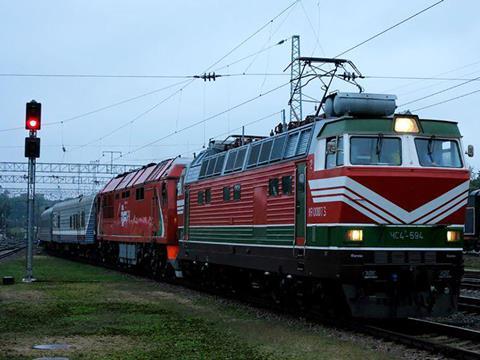 EUROPE: Completion of 25 kV 50 Hz electrification of the route between Minsk and Vilnius was marked with a ceremony on September 16.
Work to electrify the final 111 km had begun in September 2015. Work on the 84 km Belarusian section between Maladzyechna and the border near Kena was undertaken by Belarus Railways and China United Engineering Corp, with 85% of the US$72m cost being financed by a loan from China EximBank.
Regular electric passenger services between the two capitals are scheduled to start on December 10, with the current journey time being reduced by 40 to 45 min. Belarus Railways plans to deploy its Stadler Flirt EMUs on the route, while Lithuania's LG will use Škoda Transportation Class 575 double-deck EMUs.
Electrification of the double-track route has been planned since 1980s. It is expected to increase cross-border freight capacity by 40% to 60%, improving links between Belarus and Baltic Sea ports.
LG plans to begin electric operation on the Vilnius freight bypass in 2018, and to extend electrification from Radviliskis to Klaipeda in 2020.
The corridor is also part of an important freight artery between the exclave of Kaliningrad and the rest of Russia, which is now expected to be electrified throughout in 2021.