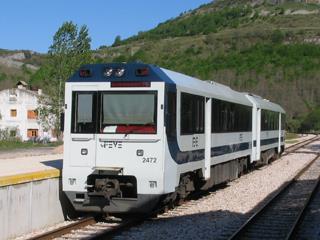 SPAIN: ADIF has awarded CAF Signalling a €19·8m, 23-month contract to replace the life-expired telephone-based block signalling system at the western end of the metre-gauge Ferrocarril de La Robla route between Bilbao and León.
The contract covers the section between the current temporary terminus at León Asunción-Universidad and Guardo, the eastern limit of commuter services from León.
CAF Signalling will implement an automatic block system managed from a single traffic control centre, with electronic interlockings at Matallana, La Vecilla, Boñar, la Ercina, Puente Almuhey and La Espina.
The freight-only branch from Matallana to La Robla is included, with an electronic interlocking to be installed at the terminus.
New telecoms will also be provided at the stations on the route.
Telephone block signalling is used between Guardo, Matallana and Aranguren, near Bilbao, where the route joins the main corridor from Oviedo and Santander. There is one through train a day in each direction between Bilbao and León, with freight now virtually non-existent.