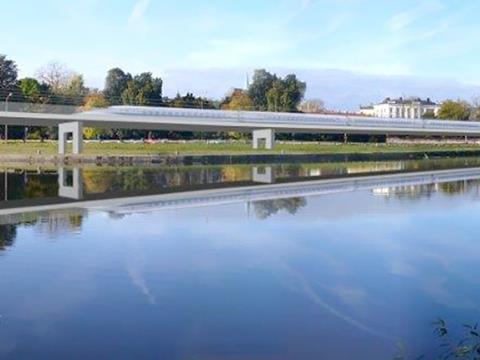 SWEDEN: The government intends to develop future high speed lines for a top speed of 320 km/h, Infrastructure Minister Tomas Eneroth and Environment Minister Isabella Lövin confirmed on June 4. Presenting the government's national development plan for 2018-29, they confirmed SKr148bn of rail spending, including three sections of new line.
Presenting its proposals for consultation on August 31 last year, infrastructure manager Trafikverket had suggested that the Ostlänken line between Järna and Linköping, Lund – Hässleholm in the south and Göteborg – Borås in the west could be built for 250 km/h to reduce the cost. This provoked a strong reaction from the train operators' association and others who believed that a higher speed was needed to make rail more attractive and drive operating efficiencies. The ministers confirmed that the government's intention was to build the new lines for 320 km/h operation.
The government has accepted Trafikverket's view that some parts of the national rail network are running out of capacity, and relief cannot wait until funding is found to build the long-planned Y-shaped high speed route linking Stockholm, Malmö and Göteborg. Thus it intends to press ahead with construction of the three initial legs, with the aim of linking them up in the future.
Welcoming the announcement, rail industry association Swedtrain said a 'broad political agreement' was needed to implement the proposals as soon as possible. The national plan envisages that work on the new lines and other much-needed upgrading projects would start in around 10 years. Calling for cross-party talks to find additional funding, Swedtrain Secretary General Pia Lagerlöf pointed out that 'it is only when the entire route has been completed that society can take advantage of the shorter journey times, increased capacity and more punctual trains'.
The government has committed to increase resources to operate and maintain the conventional network by 47% in the next national plan period, as part of its objective of making Sweden the world's first fossil-free economy.
'Even though we welcome the increased spending on operation and maintenance, it is clear that Sweden will continue to have major problems with the existing railway infrastructure for many years', said Lagerlöf. 'It is only by maintaining investment at a high level for a long time will we see the major benefits. Separating fast and slow trains would reduce the load on the existing trunk lines, and create a more robust railway for both freight and passengers.'