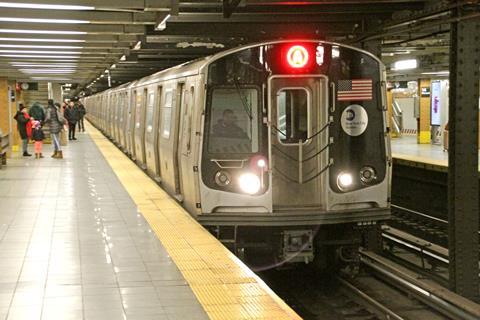 USA: New York MTA has awarded LK Comstock & Co a $245·8m contract to install Siemens Mobility Communications-Based Train Control, and undertake other equipment enhancements on the 8th Avenue subway corridor.
The contract announced on January 13 covers the local and express tracks between 59th St/Columbus Circle in Manhattan and High Street in Brooklyn, which are used by the A, C and E services. The corridor includes some of the busiest station complexes on the network, including Columbus Circle, the Port Authority Bus Terminal, Penn Station and West 4th Street.
The CBTC will interface with that being installed on sections of the C and E lines under the Queens Boulevard signal modernisation project, and will mean the entirety of Line E will be using CBTC.
This is expected to increase capacity, performance and reliability, and will also enable the provision of real-time train arrival information.
The contract covers the interlockings at 30th and 42nd streets, power supplies, zone controllers, cables, fire suppression, HVAC, lighting and equipment housings. The project will be New York City Transit's first to use axle counters instead of track circuits, which is expected to reduce delays and maintenance costs.
The contract has been placed under MTA's new approach of 'bundling' work with the aim of minimising disruption to services. 'The new MTA is customer-centric and delivering projects better, faster and cheaper', said Janno Lieber, head of the Construction & Development department which MTA has formed to handle capital projects. 'We are bundling projects in order to minimise impacts on customers and this project will be our biggest effort yet.'