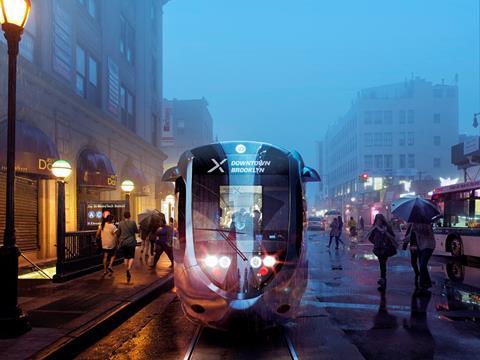 USA: Mayor of New York Bill de Blasio has confirmed the city's intention to develop a modern light rail route serving districts of Brooklyn and Queens which are poorly served by the Subway network.
Issuing a statement on August 30, De Blasio said that an environmental impact study would begin 'this winter' to assess the proposed 17·7 km alignment, which would be mostly segregated from road trafic. The Brooklyn Queens Connector would link Astoria with Red Hook serving 31 stops in Williamsburg, Greenpoint and central Brooklyn.
An initial proposal for the so-called BQX set out by De Blasio in 2016 would have seen the route reach Sunset Park at its southern end, but this has now been removed from the project on account of high anticipated construction costs and proximity to the M Subway line.
Construction of the light rail line is expected to cost $2·7bn, of which $1·4bn could be generated through value capture schemes. Federal grants would be among the options explored to finance the rest of the work. The municipality predicts that the project could generate economic benefits of up to $30bn. Initial ridership would be 50 000 passengers per day.
'BQX taps into state-of-the-art transit tech to respond to and build upon the evolution of the Brooklyn Queens Waterfront', says Deputy Mayor for Housing & Economic Development Alicia Glen. 'With more than half a million people now living and working along the projected line and further growth to come, BQX will transform how our city moves.'
Construction is expected to begin in 2024 for completion in 2029.